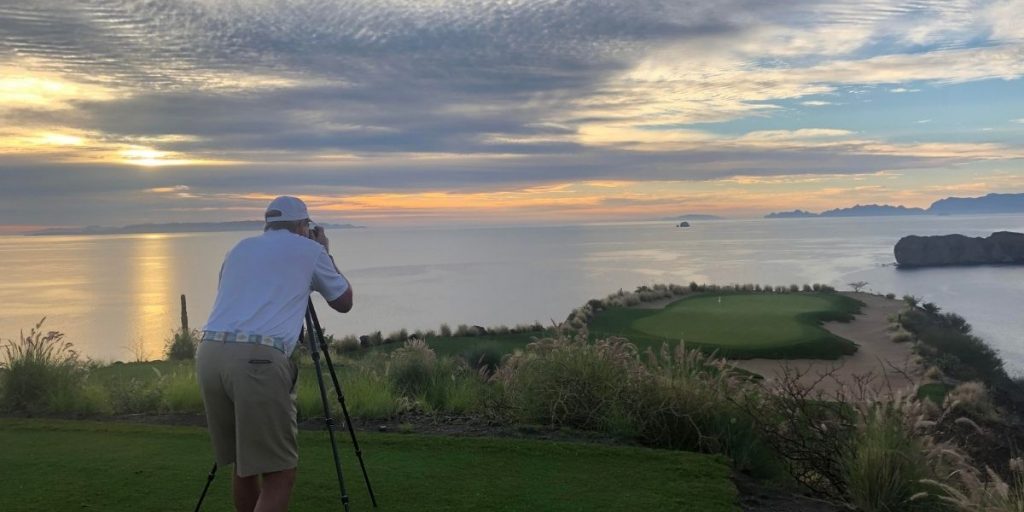 Behind The Lens: The Secrets Of The World's Best Golf Course Photographers
TPC Danzante Bay has been fortunate to have many world-renowned golf course photographers shoot our award-winning course—one of the most beautiful golf courses in the world. Happily, they share beautiful images of our scenic golf holes on social and media channels around the globe.
We interviewed several skilled photographers to get their perspective on photographing not only TPC Danzante Bay, but any golf course.
Joann Dost
According to West Coast-based photographer Joann Dost, her best advice is to not include too much in the image. It's often better to take two or three different photographs of the same scene than try to capture every detail in one picture. Also, use clouds to add drama: Look for clouds that are well-defined and contrast well with the rest of the sky. Don't be afraid to let clouds fill most of the photo, even at a dramatic course like TPC Danzante Bay.
Photo by Joann Dost
Brian Oar
Brian Oar, who took this stunning night shot, thinks the golden times are for about an hour after sunrise and an hour before sunset. He says TPC Danzante Bay is truly one of the most beautiful spots on earth, and the Islands of Loreto and the Sea of Cortez are jaw-dropping as well, perfect for shooting epic images.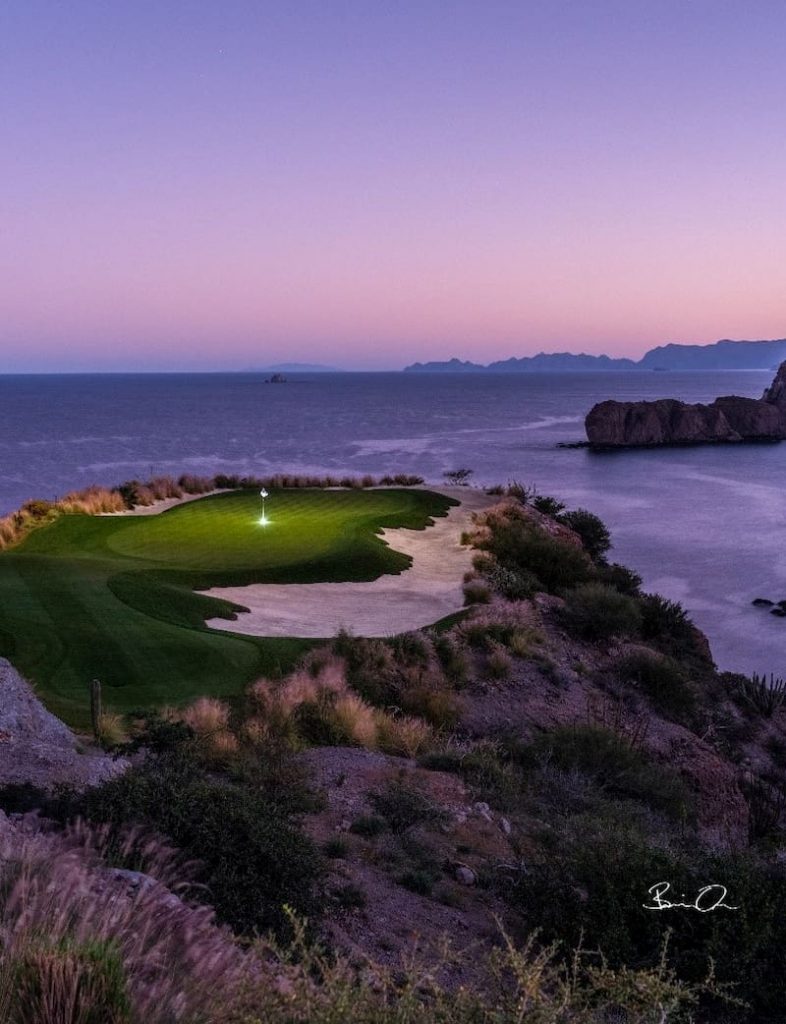 Photo by Brian Oar
Patrick Koenig
When we asked influencer Patrick Koenig what makes TPC Danzante Bay so special, he replied, "The diverse options are fantastic, with light coming in and around the mountains to the beach front holes, to the stunning 17th hole. It is not just as simple as sunrise and sunset at TPC Danzante Bay: With the mountainous topography, each hole has a slightly different moment where it shines best. It is slightly different for each golf hole."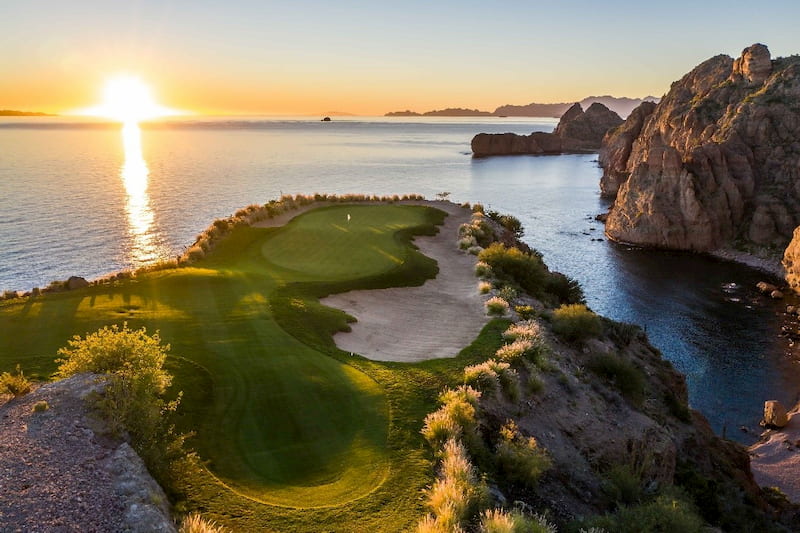 Photo by Patrick Koenig
Channing Benjamin
Photographer Channing Benjamin recently visited TPC Danzante Bay and relayed this story. "So, I am cruising around in the canyon part of the course, and the light was fading quickly. I thought to head out toward the ocean holes, but then I saw this heavenly beam of light shining down on the par 4 4th hole. This light, oh I love the light. It is a thing of beauty here, but it was even better in person as it was seemingly the last bit of light around. How was that possible in such a vast space? It was only for a moment that the light seemed to envelop the green and flag, but that is all I needed. One glorious moment in time, when the light and the scene, is just sublime." ⠀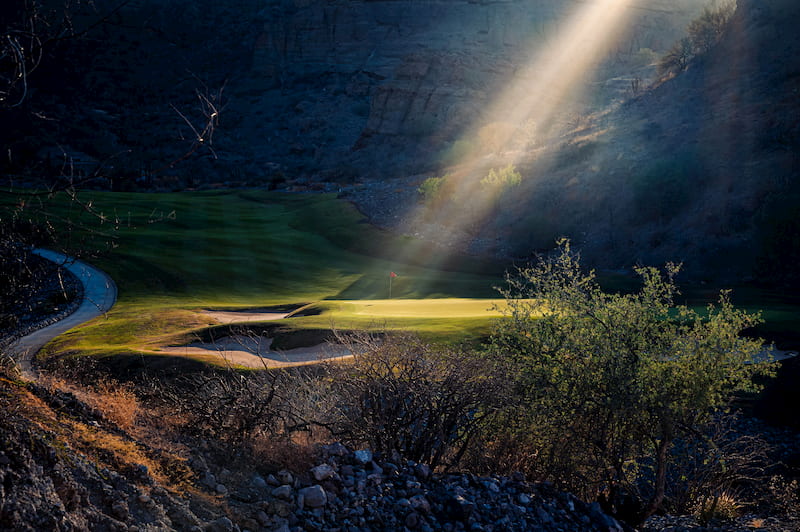 Photo by Channing Benjamin
Bill Hornstein
Creative director turned golf course photographer Bill Hornstein (aka Golf Rhino) has spent countless hours photographing TPC Danzante Bay. "The golf course winds and twists through the mountains and down to the water, making it a very special design and an absolute pleasure to photograph. While the 17th is the crown jewel and well deserved of the attention, do not forget to spend some time on the other holes. It is not often you get to see a golf course with so much unspoiled background so take advantage of it."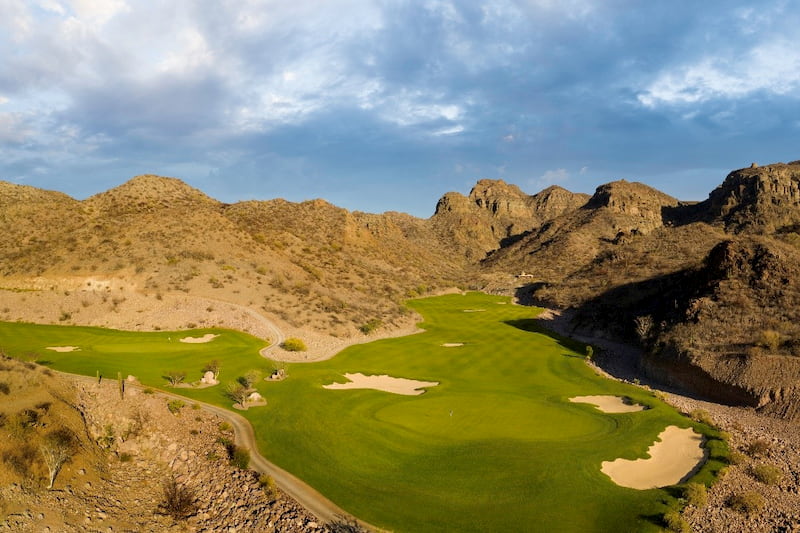 Photo by Bill Hornstein
Take these pointers from a fivesome of talented artists, but remember their parting advice: TPC Danzante Bay is even more fun to play!