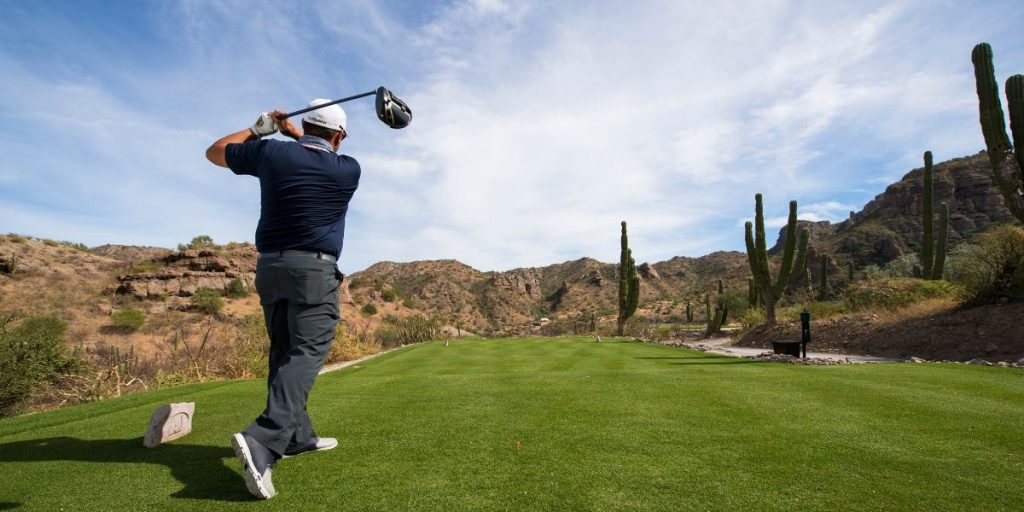 IMPROVE YOUR GOLF GAME WITH A SPRING TUNE-UP—DO IT WITH US!
Before the golf season really kicks in, we can think of no better place than the Islands of Loreto in Baja California, Mexico. You won't find a more beautiful—or friendly–place to work on your game and play one of the world's most scenic courses, all at a full-service resort that will cater to your every need.
Golf is a year-round sport at our TPC Danzante Bay, a bucket-list course that will kick off your 2020 golf season in style.
Once whisked to the islands by Alaska Airlines from LAX or Volaris and Calafia Airlines from within Mexico, it's easy to see why Golf Magazine named Villa del Palmar at The Islands of Loreto one of the Top 100 Resorts in North America and Golf Digest's editors named it among the Best Resorts in Mexico/Central America (2019).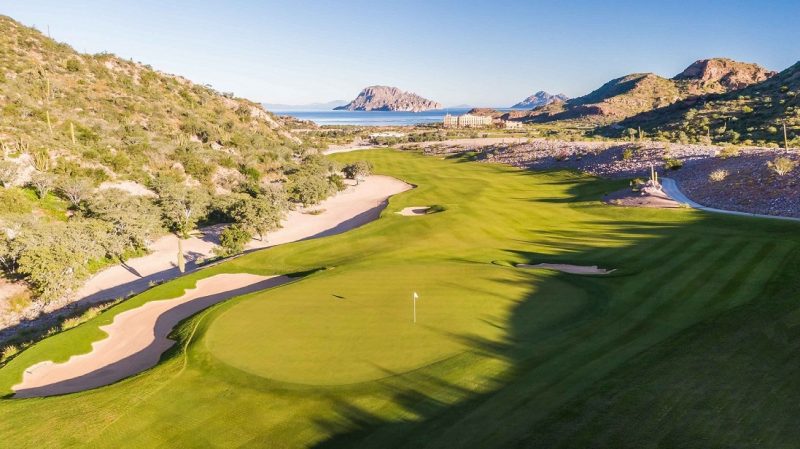 TPC Danzante Bay offers a spectacular Rees Jones-designed 18-hole layout. Maybe even more important this time of year is its spacious practice facility, including a dedicated short game area and a nine-hole putting course inspired by the famed Himalayas putting course in St. Andrews. But unlike Scotland, the weather here is always perfect.
We have a number of ways we can help get your game ready for the new golf year:
1. Improve your golf game with tips from a PGA Professional
You will never regret the helpful tips that come from your pro; he or she will see even minor things to work on that will shave off a few strokes and dramatically increase your enjoyment. Our friendly, helpful professional staff is ready and waiting to provide tips or an unforgettable playing lesson on our equally unforgettable golf course.

2. Hit the range
Coming out of the cold, nothing beats some time on the practice range, especially if you're breaking in new clubs or working on the fundamentals like grip, stance, alignment, and some all-important swing suggestions. TPC Danzante Bay's spacious practice facility features a dedicated short game area with exquisite views of Danzante Bay and the Sea of Cortez. (Sorry, it can be a little hard to keep your head down here.) The expansive nine-hole putting course was inspired by the famed Himalayas putting course in St. Andrews, Scotland: Since putting accounts for up to half your score, plan to spend some time here. This is a great place to make your practice sessions count—and watch your golf game improve.
3. Take a yoga class
Yoga is proven to help golfers with strength, flexibility, and balance, which is why at TPC Danzante Bay our yoga instructor hangs out on the driving range and will help your warm-up. A number of different stretches are demonstrated and taught in a great outdoor environment. Back at the resort, we offer yoga classes (even retreats) specifically designed for golfers. These sessions increase mobility, strength, and balance to improve your overall game, especially your swing, and protect you from injury.

4. Get a massage
One of our golf-centric massages can be very beneficial, for everything from improving range of motion to soothing muscles that haven't been used since last year. Our 80-minute "Sabila Spa Signature Golf Massage" features trigger-point therapy done with golf balls; those dimples act like extra fingers and can get where you need relief. For maximum results, get a golf massage at least 48 hours before or after you play.
5. Test some new golf clubs – for fun and fit
At TPC Danzante Bay, the rental clubs are new offerings from both TaylorMade and PXG, which you might like enough to order when you get home. But good as our clubs are, be sure to work with your local pro or the experts at your favorite golf store to get fit to your swing.
Come see us at TPC Danzante Bay and Villa del Palmar at The Islands of Loreto and you'll be ready to go. We look forward to welcoming you to our slice of paradise and setting you up for your best golf season yet.