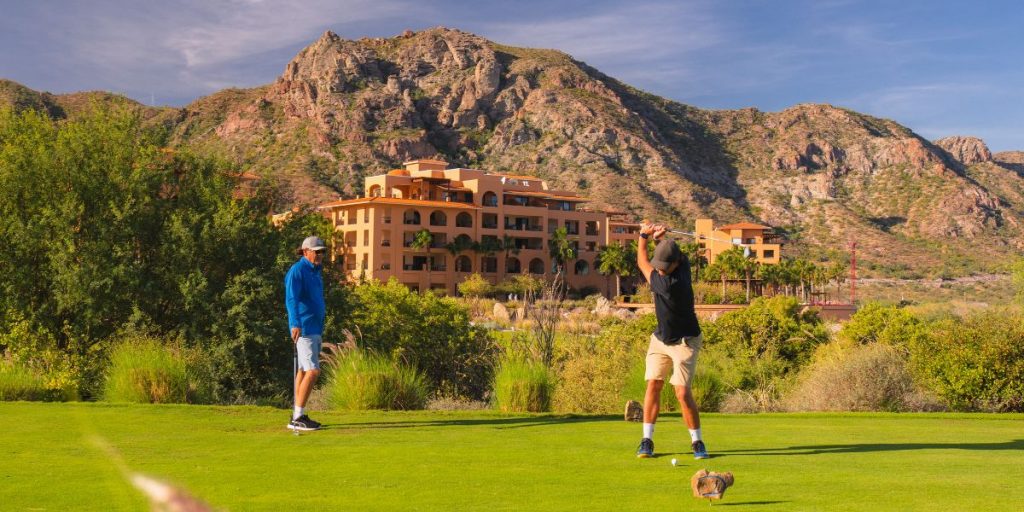 Getting into Golf at TPC Danzante Bay
Golf is a technical game. For the rare few, the golf swing is intuitive. For everyone else, lessons from a teaching professional are required to get off to a good start.
Why are golf lessons so important for beginners? There are three main reasons. First, novices need to master the basics–grip, stance, posture and alignment—before attempting to hit the ball. Second, good mechanics help players avoid injuries (and bad habits). Third, proper instruction will dramatically increase your chances of success.
Learning How to Play the Proper Way
By enrolling in the Beginners Golf Academy at TPC Danzante Bay, novices can absorb the fundamentals and build a good foundation. Golf is a target game: the object is to advance the ball from the tee to the green and roll it into the hole in the fewest number of strokes. Players with good technique can free themselves to focus on where they want the ball to go, as opposed to worrying about the do's and don'ts. With the basics ingrained, the idea is to quiet the mind, trust the process and let the body execute the swing.
Here are a few helpful tips for beginners. Understand from the get-go that golf is a challenging game. The learning curve can be steep. Also, what feels 'natural' may be technically incorrect. The flight of the ball will give you instant feedback, and signal what if any swing adjustments need to be made. Each shot is an opportunity to learn, grow and become a better golfer. Keep it simple. Enjoy the journey.
Finding the Right Swing Shape & Tempo
Remember, no two swings are alike. Develop a swing that fits your physique. For example, a tall slim player will have a more upright swing plane than a shorter, stouter golfer.
Find a tempo that reflects your personality. If you walk fast and talk fast, you're likely going to swing fast. If you're more deliberate in your words and actions, you'll tend to have a slower, more rhythmic swing. Fast or slow, the key is to stay balanced throughout the swing, especially at the finish.
Finally, don't get discouraged. Stay optimistic. There will be times when you feel like you're not improving. Golf can be an exasperating game, but stay patient and it will always reward you.

Golf Academy Classes & Off the Course Experiences Available
TPC Danzante Bay, among the very best golf facilities in Mexico, has anticipated every beginner's needs with its top-notch golf academy program.
For example, the 1-2-3 DAY BEGINNERS GOLF ACADEMY is a perfect way for newcomers to get started in golf. The club offers a fun, stress-free daily golf academy for first-timers who'd like to try their hand at golf. This beginner course includes everything you need: equipment, access to practice facilities and guidance from golf professionals!
The 1-2-3 BEGINNERS GOLF ACADEMY includes:
· 90-minute group lesson per day
· Golf clubs & range balls during the class
· Teaching golf professional assistance
· 9-Hole Putting Course for the day
Program:
· Day 1: Intro, Short Game, Long Game
· Day 2: Short Game, Long Game, Putting
· Day 3: Long Game, Driver, Putting Contest
The academy is available from Monday to Friday, from 9:30 a.m. to 11:00 a.m., for groups from two (2) to six (6) people.
· 1 Day Package: $89 USD per person
· 2 Day Package: $165 USD per person
· 3 Day Package: $240 USD per person
Reservations for the 1-2-3 BEGINNERS GOLF ACADEMY can be made at the golf desk; or at extension number 4403.
For players who want to hone or polish their games on their own, TPC Danzante Bay also offers a trio of OFF THE COURSE Golf Experiences at its world-class practice facility:
9-Hole Putting Course ($16 USD) includes:
· 9-Hole putting course access
· 1 putter, 1 golf ball per player, scorecard
· 50% off for kids under 16 years old
Driving Range Practice ($20 USD) includes:
· Access to driving range, chipping area and putting green
· 70 range balls (approximately)
· Clubs available for rent: $4 USD / club
All-in-One Driving Range Package ($45 USD) includes:
· 9-Hole putting course access
· Driving range access
· Unlimited range balls
· Full set of rental clubs
Rates are per person, per day and include taxes.
Reservations can be made at the golf desk or at extension 4403.
Call Toll-Free: 1 800 790 4187
Resort Phone: +52 (613) 134 1000