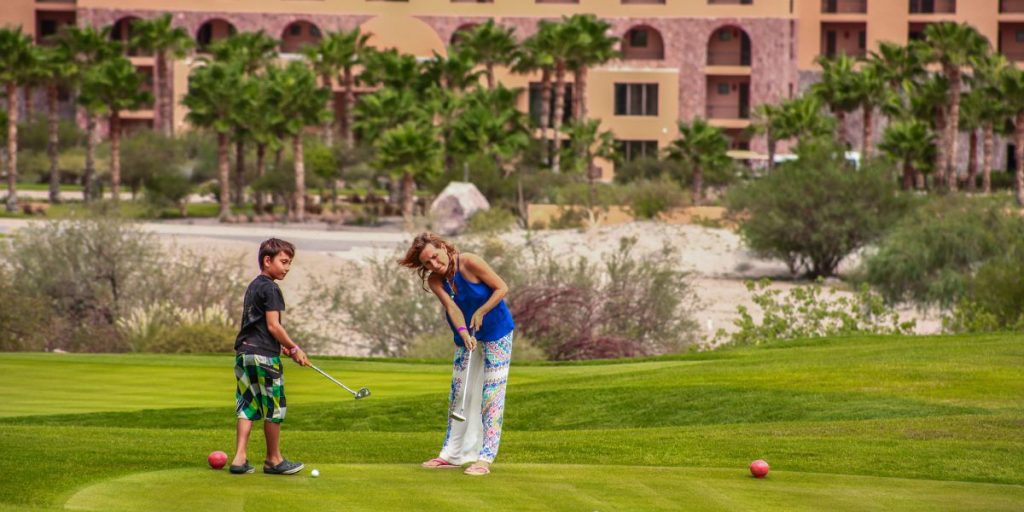 7 Reasons Why TPC Danzante Bay is a Family-Friendly Golf Club
At first glance, TPC Danzante Bay would not appear to be the kind of course a family would enjoy. After all, one of Mexico's finest golf facilities is part of the Tournament Players Club (TPC) network, an exclusive collection of championship-caliber courses.
Dating to 1980, when the iconic TPC Sawgrass course opened in Ponte Vedra Beach, Fla., TPC courses have set a standard for beauty, challenge and environmental preservation. And while they're designed with tournaments in mind, the best ones, like TPC Danzante Bay, accommodate players at all skill levels. Golf architects believe a little bit of shine comes off a course if it only caters to accomplished players. The goal of every reputable designer is an "Everyman's" course playable by everyone—including kids and beginners.
1. A course that everyone can enjoy
Resort owner Owen Perry was insistent that his architect of choice, Rees Jones, build a course that everyone could enjoy. Despite the topsy-turvy terrain, Jones and his team massaged the landscape to create a layout that provides a worthy, memorable test from each set of tees. Even nervous novices and nonchalant teenagers can have a good time on this family-friendly golf course.

2.Course Designer Rees Jones Weighs In
"TPC Danzante Bay is a course that both avid and casual golfers will want to travel to play, enjoy and experience," Jones said when the course opened in 2016. He noted that with its generous fairways and multiple sets of tees, the layout is playable by any caliber of golfer. "The golf course has open entrances, pockets and sandy areas that capture the ball and keep it from going into the desert," he explained. "We've kept the green contours mild so that the putting surfaces are manageable. People will want to play this course over and over again because the conditions change daily with the wind."

3. A versatile spread
A versatile spread, TPC Danzante Bay has six sets of tees, ranging from 7,237 yards (black) to 4,916 yards (red). Check the yardage, course rating and slope rating for each set of markers and match your handicap to the appropriate set. If you or your children are not reaching greens in regulation, move up a set of tees. For players of all ages, golf is more enjoyable when you're putting for pars, not scrambling for bogeys.
4. You can have a fun family golf experience
Make sure your family golf experience at TPC Danzante Bay is fun. Here's a great tip from Hall-of-Famer Johnny Miller, who had six children. "When you take your young kids to the golf course, remember that they don't need or want complicated instruction, lecturing or advice. What they need and yearn for is unadulterated praise. When your seven-year-old hits a good shot, say 'Great shot!' When he hits a bad shot, exclaim, 'Great swing!' I used to love to take my kids to the course late in the day when no one was around. We'd find a water hazard and purposely hit balls into the water. Young children for some reason are enthralled by watching the splash, and it guarantees they'll have a good time — and they'll beg you to take them again." (Pro tip: Bring a bag of older balls your kids can have fun with).

5. Splendid Views from Start to Finish
As all parents know, kids like candy. But they also like eye candy. They like to be thrilled by their surroundings. Threaded through deep-cut canyons and routed through seaside dunes in the shadow of the Sierra de la Giganta, TPC Danzante Bay is a knock-out visually.
The course delivers its biggest "wow" factor at the par-3 17th hole. After cresting a rocky ridge, golfers are presented with a dazzling view of the Sea of Cortes. Take the full measure of the hole by driving to the black tee, a truly exalted perch. Maybe your limber-limbed 14-year-old would like to take a lash from 178 yards, the target a peninsula green yoked by sand that appears suspended above the glittering blue sea.

6. Unique place to rest and relax
Kids like immediate gratification. The golf course is located five minutes from Villa del Palmar at the Islands of Loreto, a superb all-inclusive resort that gives families the perfect place to rest and relax before and after golf. Kids can chill by the pool, sip a milkshake or a soft drink, and maybe even talk about the next round they can't wait to play.

7. Excellent practice facility
Don't overlook the club's excellent practice facility, including its spacious driving range and dedicated short game practice area. Some kids like to putt and chip and tinker. Others love to tee it high and let it fly.
When it comes to golf at a family-friendly facility like TPC Danzante Bay, let your kids call the shots. The rule of thumb is this: You are there to do what they want to do, not what you want them to do. The payoff? Happy children, who are good at building strong family bonds when they're having fun.