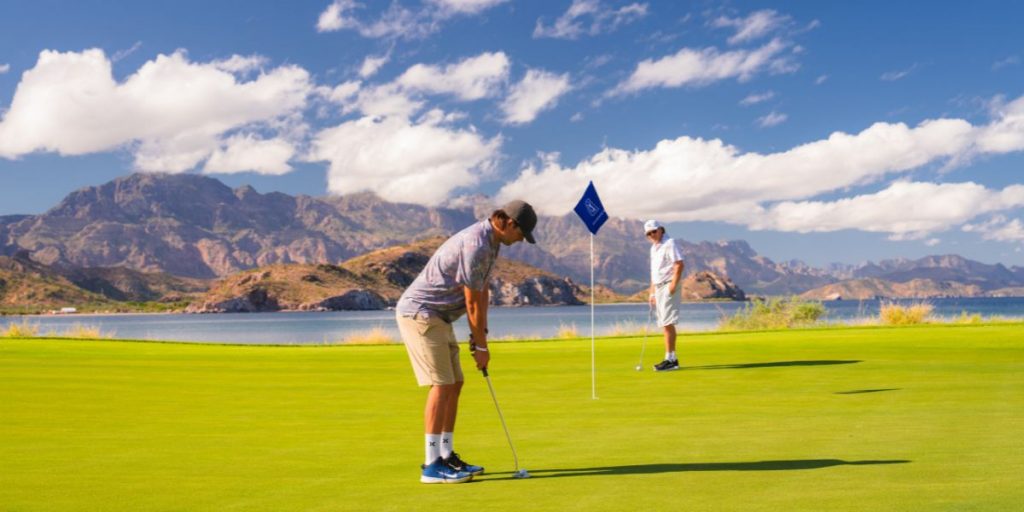 Tips for Playing Golf in the Summer
Don't let a summer day in peak golf season slip by because El Sol is afire and the mercury is rising. There's an art to playing golf when it's hot outside, and it can be mastered.
Here are some key strategies to employ this summer to beat the heat—and perform at your best.
1. Early tee times
Plan to play early in the morning at TPC Danzante Bay, when the sun is low in the sky and the day is still fresh. Or tee it up later in the day, when temperatures begin to drop. Try to avoid playing from 12:00 noon to 4:00 p.m., generally the hottest hours of the day in Loreto. Nine holes at twilight can be a delightful option.
2. Hydration & nutrition
You need to drink water to maintain strength and stamina on the golf course as your body expels liquids. Ideally, hydration should begin the night before you play. Drink water when you awake to maintain hydration levels by consuming 5 – 8 ounces of fluids every 15 minutes–essentially every hole or two.
Make whatever water you drink work harder for you by adding supplements, like electrolytes and salt. These additives will allow your body to retain fluids more effectively. Or opt for coconut water (which contains natural electrolytes) or electrolyte-filled sports drinks such as Gatorade or Powerade. Avoid coffee, alcohol and high-sugar content drinks like soda.
Healthy snacks are important to keep performance levels steady. Bananas are a good choice. So is high-quality beef jerky. Other options: cheese sticks, or an individual pack of almond butter, which can be squeezed onto a banana. Proper hydration and nutritious nibbles will enable you to replenish your electrolytes—and avoid dehydration.

3. Sunscreen
Apply it early and often. It's imperative to protect your ears, the back of your neck, your face (especially your nose, which gets the most sun per square inch of any body part) and any exposed skin with SPF 30+ broad-spectrum sunscreen. Apply before teeing off and again at the turn. Many golfers favor spray-on sunscreens and stick applicators to keep their hands grease-free. Be aware that 80% percent of the sun's UV radiation can penetrate clouds, so the same rules apply on Loreto's rare cloudy days as on its blue sky days. Keep in mind that sunscreen is effective for only a couple hours or so. When in doubt, reapply.
4. Attire, hats & sunglasses
The importance of dressing appropriately for summer golf cannot be underestimated. Comfortable, breathable clothing in light colors that absorbs and holds less heat is a must. So are golf togs made from moisture-wicking fabric. Manufactured from synthetic fibers (vs. cotton), moisture-wicking fabric is treated to enhance capillary action, which moves sweat from your skin to the outer layer of the garment, where it evaporates. Shorts, skorts and skirts are all better choices than pants, but remember to protect your legs with sunscreen. Sun sleeves, worn on the forearm and over the bicep, are increasingly popular (especially on the LPGA Tour) as a partial alternative to sunscreen. Just as important as the right golf shirt is a breathable pair of golf socks. While wool has traditionally been associated with warmth, its natural moisture-wicking properties make it an ideal golf sock material.
Wearing a baseball-style cap is OK, but donning a wide-brimmed hat or a bucket hat will provide additional protection from the sun's direct light. Lightweight, moisture-wicking performance fabrics are becoming popular in hats, too.
Polarized sunglasses that offer 100% UV protection are the best way to shield your eyes from harmful ultraviolet rays emitted by the sun. Because the ability to read greens can be influenced by certain colors, golfers should experiment with different lens colors. In general, neutral gray and bronze / amber lenses tend not to distort golf course colors.

5. Staying cool
Throughout the round, wipe your face with a towel soaked in cool water; or use a spray bottle to mist yourself with cool water at regular intervals and dry off with a portable fan. Applying cold water or ice to various parts of the body can stabilize body temperature. If you start to overheat, use your body's quick-cooling points to manually cool yourself down. For example, place an ice pack on the areas of your body where the blood vessels are closest to your skin, including your wrists, neck and temples. Cooling your body in the right spots will help bring down your body temperature quickly. Remember to reapply sunscreen.
6. Conserve energy
Summer golf in the Baja heat can take its toll. Stay in the shade under the roof of the golf cart when you're not playing a shot. Pace yourself. Keep an even keel. If you're extra-sensitive to the sun, consider carrying an umbrella when you walk from the cart to your ball. If possible, use an umbrella with UV protection (SPF 50+).
7. Maintain your focus
While the effects of playing summer golf are physical, the test itself is a mental one. By following the strategies listed above, the golfer who's physically and mentally prepared can meet the challenge at hand. Consider that playing golf, even on a sultry summer day, helps to release tension, generate endorphins and improve muscle elasticity. This is especially true on a course as beautiful and engaging as TPC Danzante Bay.