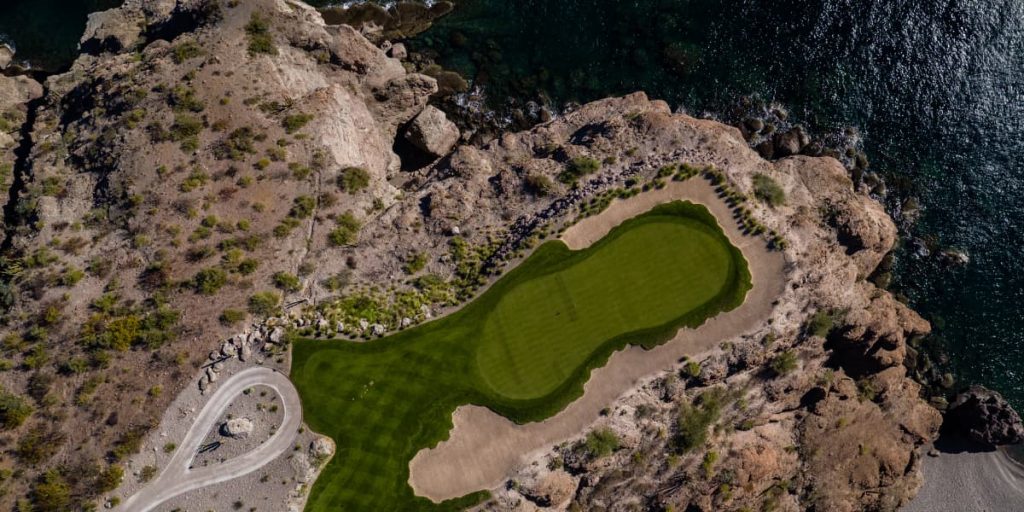 TPC Danzante Bay's Signature Holes
Let's start with a basic fact. Modern golf course architects don't like to talk about "signature" holes. Why? Because their goal is to design and build a cohesive layout, the whole greater than the sum of the parts. Calling attention to one hole over another detracts from the designer's view that his creation is a seamless, tightly knit field of play intended to provide a firm but fair test to players at all ability levels.
But it's also a fact that some golf courses—TPC Danzante Bay is a good example—have a handful of holes that cry out for individual attention. They're that unique, that memorable, that good.
Perhaps the finest critique of what makes a golf hole individual and sound was put forth by one's the game's finest designers, A.W. Tillinghast. "A wholesome, inspiring individuality goes a long way to make the man," he wrote. "The golf hole should have it just the same as a human." Tillinghast also wrote, "A round of golf should provide 18 inspirations—not necessarily thrills, for spectacular holes may be sadly overdone. Every hole may be constructed to provide charm without being obtrusive with it."
TPC Danzante Bay, a Rees Jones masterpiece crafted from a rugged seaside landscape, has more than its share of charmers. Here are three of our favorites.
HOLE #5 Par 5
A dramatic downhill par 5 reachable in two shots by strong players, the layout's fifth hole, stretching to 560 yards, reverses direction from the previous hole and offers splendid views of the bay. An arroyo runs the entire length of the left side of this majestic par 5, which curves gently to the left, the sea flooding the horizon beyond the green. No. 5 follows the credo of Robert Trent Jones, Rees' legendary father, who believed that every hole should be "a difficult par but an easy bogey."
Hole #15 Par 4
This distinctive mid-length par 4, a left-to-right dogleg, plays uphill to the base of the mountains. The fairway leads through a narrow gap in a valley that widens into a broad landing area. Tee shot placement is essential to have the proper approach angle. A large trough that cuts through the middle of the green can make putting an adventure based on pin position. Tactics and strategy, not brawn, will carry the day on this subtle hole.
Hole #17 Par 3
The transition from the 16th green to the 17th tee gives little indication of what lies ahead. After cresting a ridge, golfers are presented with a dazzling view of the Sea of Cortes 250 feet below the tee. This 164-yard par 3, already celebrated by international golf publications as one of the greatest one-shotters in the world, plays sharply downhill to a peninsula green yoked by a horseshoe-shaped bunker. The elongated putting surface, clinging to a rock outcrop, sits high above the glittering sea and distant islands. If TPC Danzante Bay has a singularly spectacular hole that fits its setting hand-in-glove and cries out for a photograph or an Instagram post, this is it.