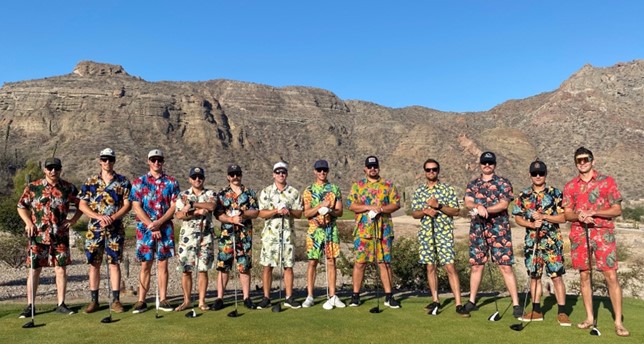 The Ultimate Bachelor Party
World-Class Golf + Fun Beach Activities + Deluxe Accommodations = The Ultimate Bachelor Party. Johnny Omahen's friends treated him to the perfect bachelor party in early May at Villa del Palmar Beach Resort. Resplendent in their floral outfits while playing a memorable round of golf at TPC Danzante Bay are, left to right: Johnny (groom), Zach Hofstee, Josh Stewart, Korey Schlegel, Kyle Johnston, Alex Elgas, Garrett Marx, Doug Branvall, Tyler Smith, Cory Kurtz, Bill Thorn, and Jerriah Flores.
(Oh … and 'the Drinks Never Stopped')
Today's bachelor party comes in all shapes and sizes, not to mention destinations. It's no longer a Vegas-or-bust mentality as the time-honored tradition of the groom enjoying one last getaway with the boys, at least as a single guy, is now celebrated in cool destinations around the world.
San Diego's Johnny Omahen, who is getting married this summer, was joined by 11 of his friends at Villa del Palmar Beach Resort & Spa in the Islands of Loreto. This resort is quickly gaining traction as one of the world's top bachelor party destinations, adding to its reputation as a world-class golf resort. Every bachelor party needs a good organizer and that role fell in the capable hands of Johnny's best man, Josh Stewart.
"Our group had never played TPC Danzante Bay and thought we should spend a week in Mexico and check it out," Josh says of the course that recently earned the Golf Digest Editors' Choice Award for Best Golf Resorts in Mexico and Central America.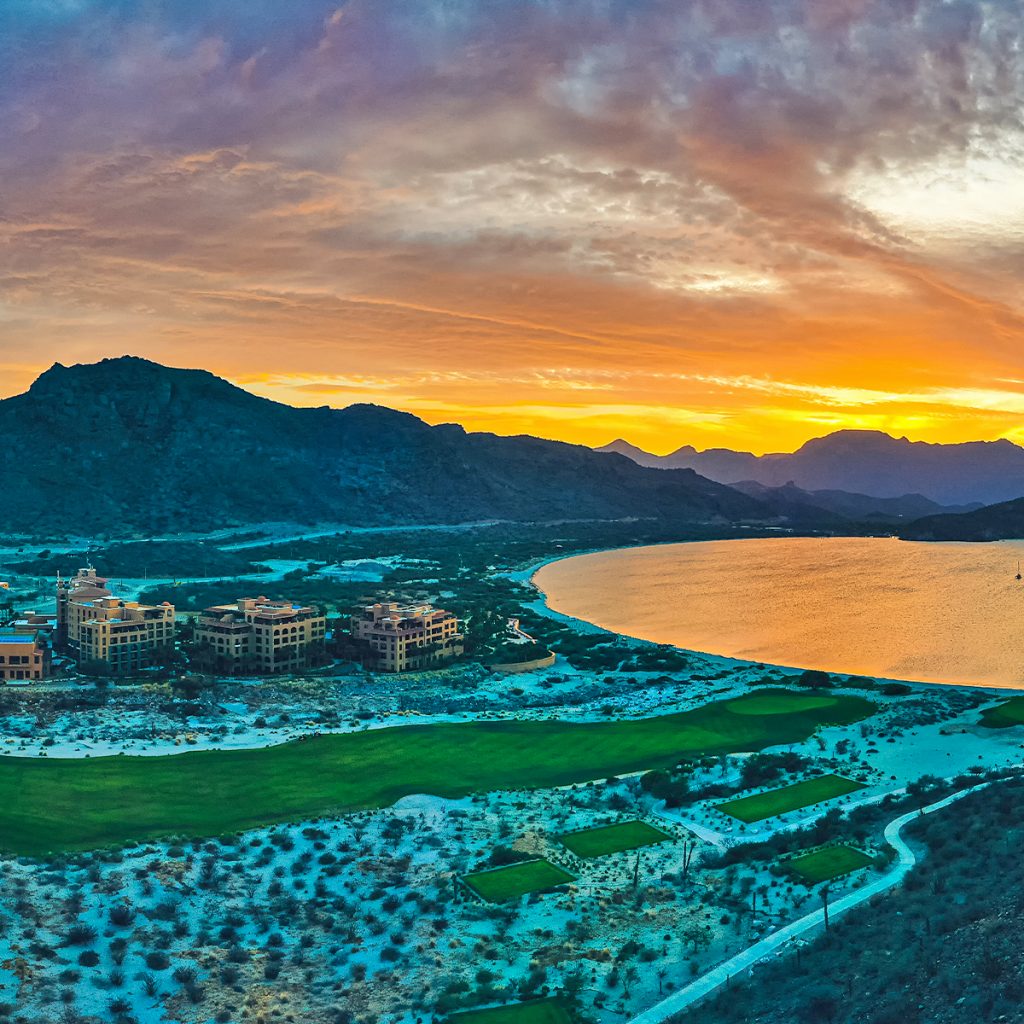 "This was actually our second bachelor party involving golf," he continues. "Two years ago, we went to the PGA Tour's Waste Management Open at TPC Scottsdale and dressed up as bananas. We made TV several times and had golf media talking about the outfits. To say the least, we stood out. That's how our outfits evolved. We always dress up as a group just to make it more fun and figured these outfits for TPC Danzante Bay would stand out."
Although divided into three different foursomes, they gathered as a group at TPC Danzante Bay's epic par-3 17th hole overlooking the Sea of Cortez.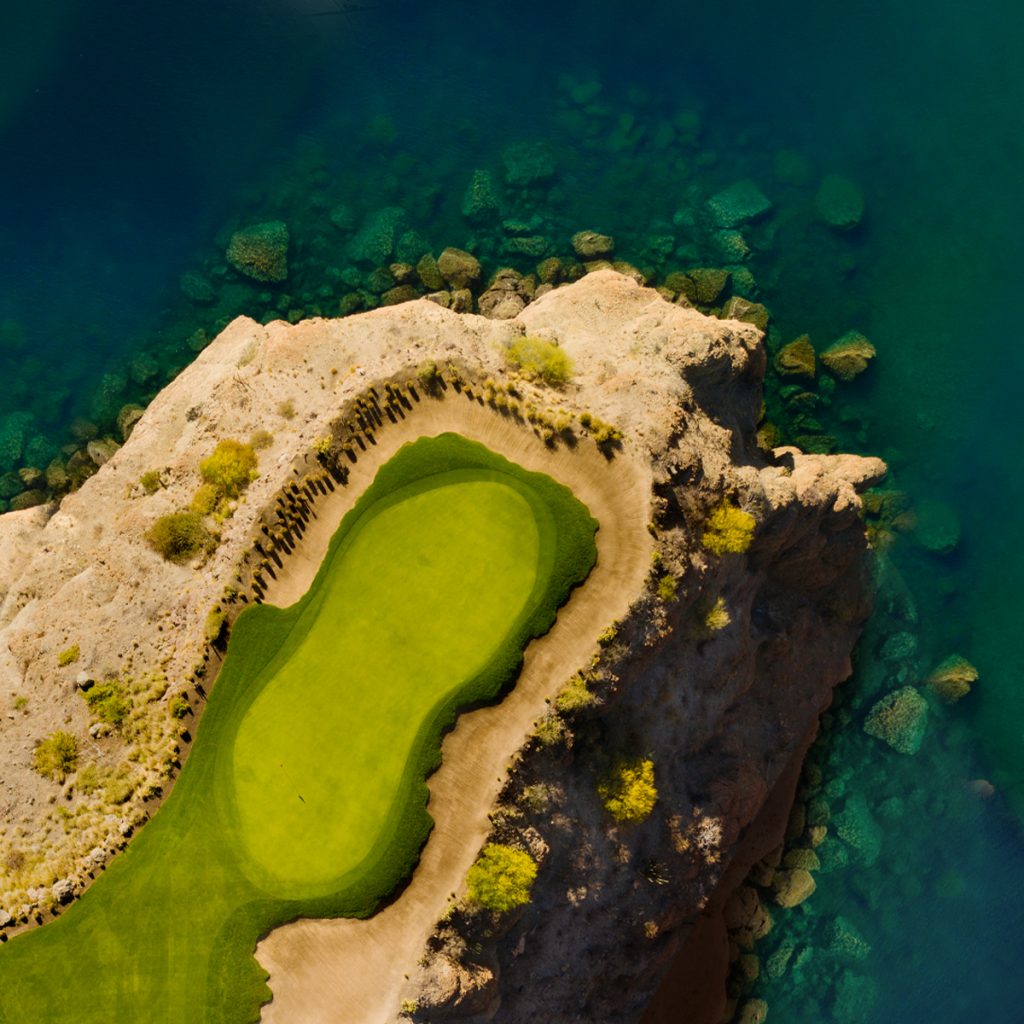 "It was awesome; that hole is beautiful," Josh says. "Plus, the golf pro rolled out the red carpet and made sure we were ready to go for the day. We had breakfast and, of course, some Bloody Mary's at the Casa Club restaurant before teeing off — that got things off to a great start. We were all very impressed with how well the course was conditioned and groomed. The greens were fast, which made it more challenging."
World-class golf makes any bachelor party better, but how about other activities? The Omahen party found there was no end to the options.
"We took advantage of the beach and played cornhole, bocce ball, and went for a kayak tour," Josh relates. "We also spent a day fishing with Outpost Charters and had a blast. Everyone caught fish and we even had fresh sashimi on the boat. Back at the Marina, the staff prepared fresh ceviche and tacos with our catch. Plus, one night at the resort, the restaurant took the rest of our catch and prepared a special meal for the group."

Then there were the resort accommodations. Some in the group stayed in a royal three-bedroom penthouse suite, while others had two-bedroom suites. "The suites were huge and added to the overall experience," Josh notes.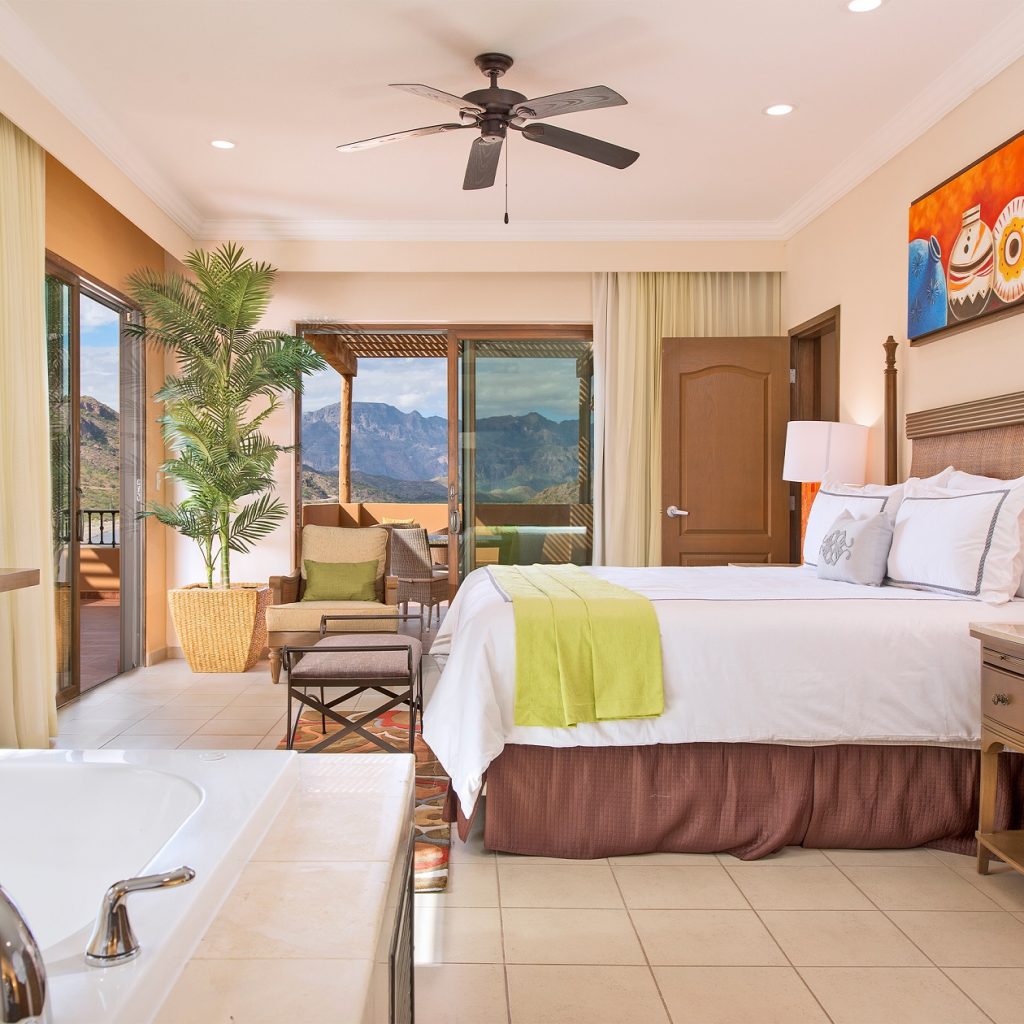 These guests from San Diego had a memorable four days.
"Everyone had a great time and I know everyone would love to come back," Josh says. "The golf course was awesome, the resort was very clean, there were plenty of activities, the staff was very friendly, and the drinks never stopped."
Add it all up and you've got the ultimate bachelor party destination.
For more information about packages and promotions at TPC Danzante Bay, call at 1 800 790 4187 or visit our packages section.