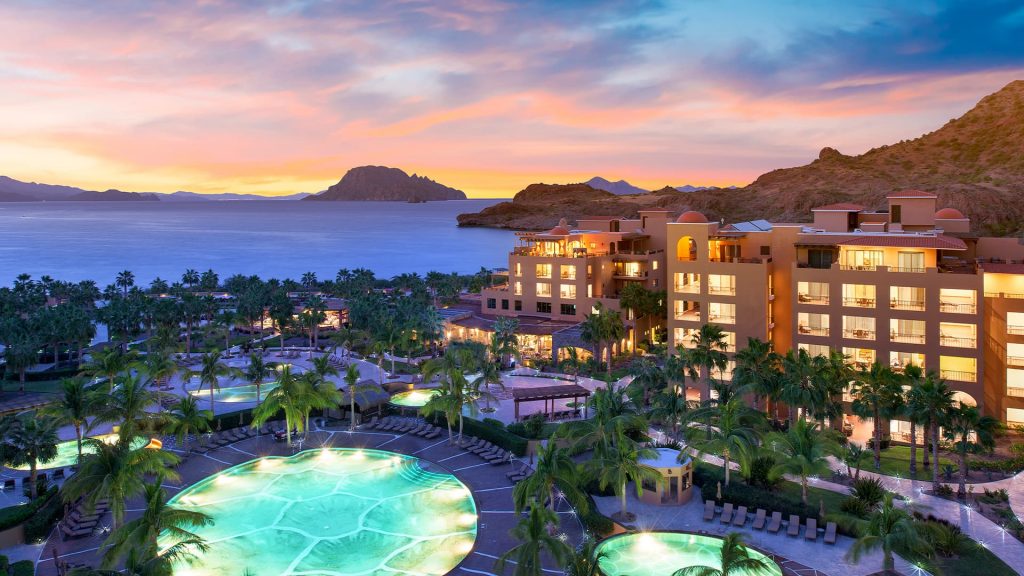 The Best Loreto Mexico Hotels for the Perfect Golf Getaway
Loreto Baja California Sur is the perfect destination for a golf getaway. Home of the legendary TPC Danzante Bay golf course, the city provides you with the sweetest combination of a technically challenging course and breath-taking views of the wild landscape and sea in Baja Mexico. Turning your vacation into a golf getaway is a smart idea because you'll be exercising on vacation while staying in a destination whose beauty invites you to breathe deeply and relax. At the end of the day, walking into your sumptuous suite at one of the Loreto Mexico hotels is the perfect way to unwind and recharge before hitting the greens again.

TPC Danzante Bay is an award-winning course designed by master architect Rees Jones who worked with the landscape of Loreto Baja California Sur to create natural barriers and sweeping views of the sea. After playing into the canyons and mountains, you'll find the second half of the 18-hole course leads up to the iconic 17th hole on top of a cliff that looks out over the Sea of Cortez. Pause here to take in the view and breathe in the fresh sea breeze of Baja Mexico. After your game, watch the sunset while you dine in the elegant clubhouse and relive the highlights of the day.
What is the best hotel to stay in Loreto Mexico?
1.Villa del Palmar at the Islands of Loreto
One of the closest Loreto Mexico hotels to the course is Villa del Palmar at the Islands of Loreto. One of the best Loreto hotels, the family-friendly all inclusive resort has elegant and luxurious facilities, including a fitness center, five pools, fine dining options, and a world-class spa. With all-inclusive packages, you can have access to all this plus TPC Danzante Bay. It's located along a quiet beach with scenic views of the Islands of Loreto, giving you a home to escape to in Baja Mexico.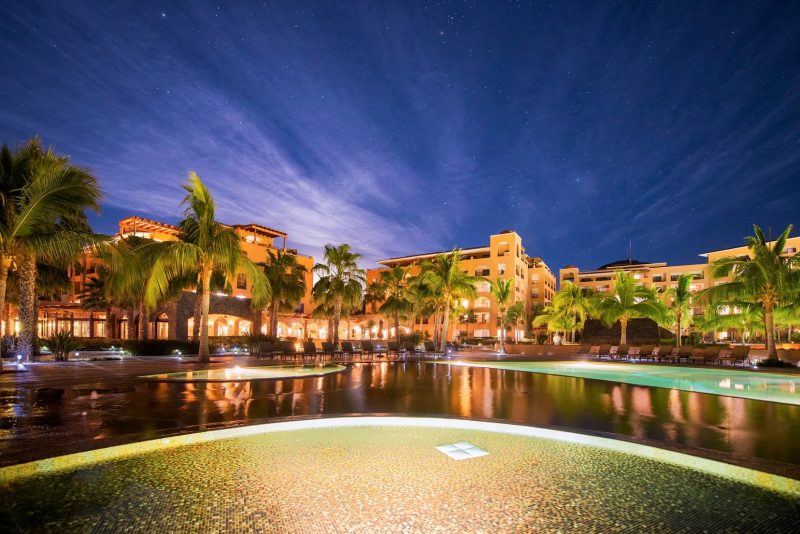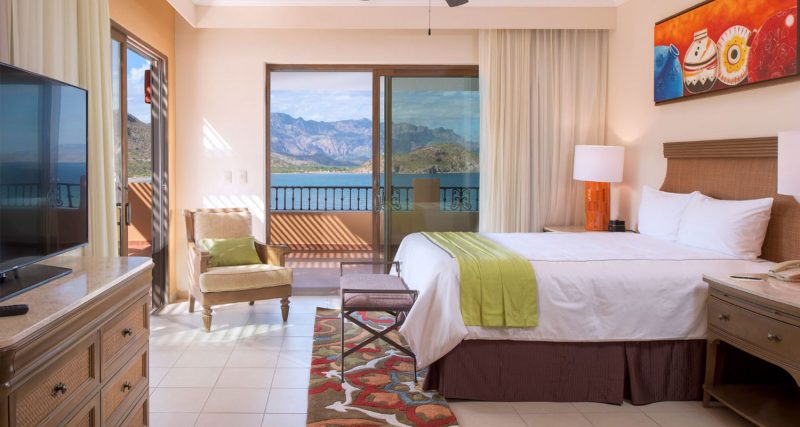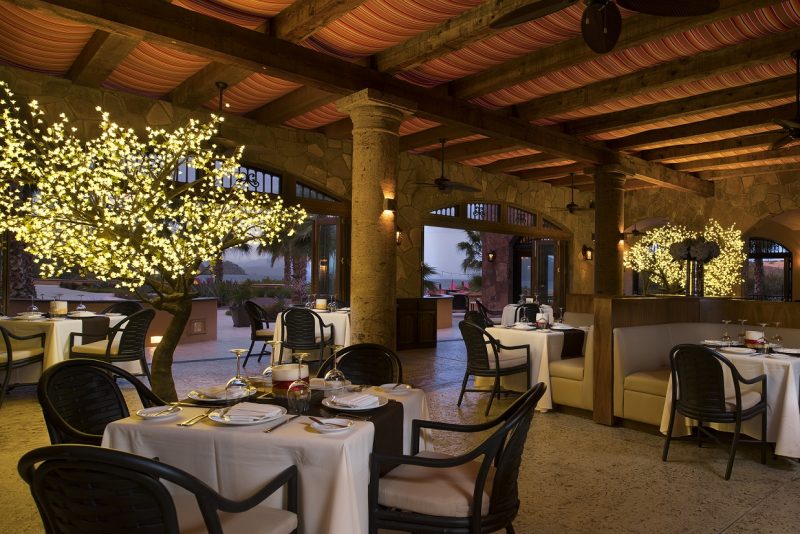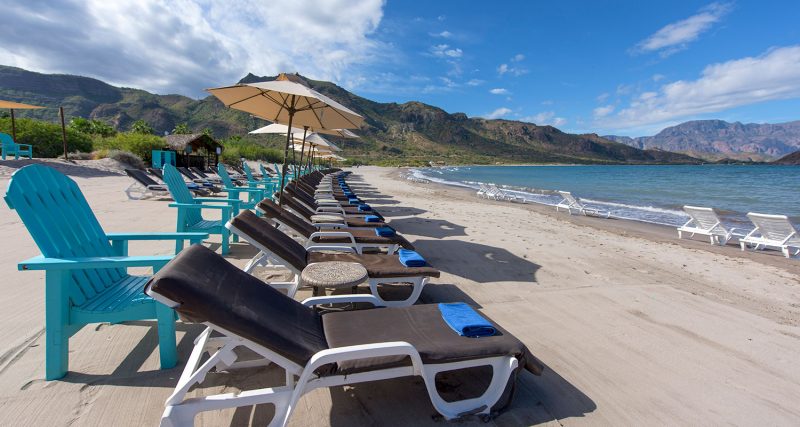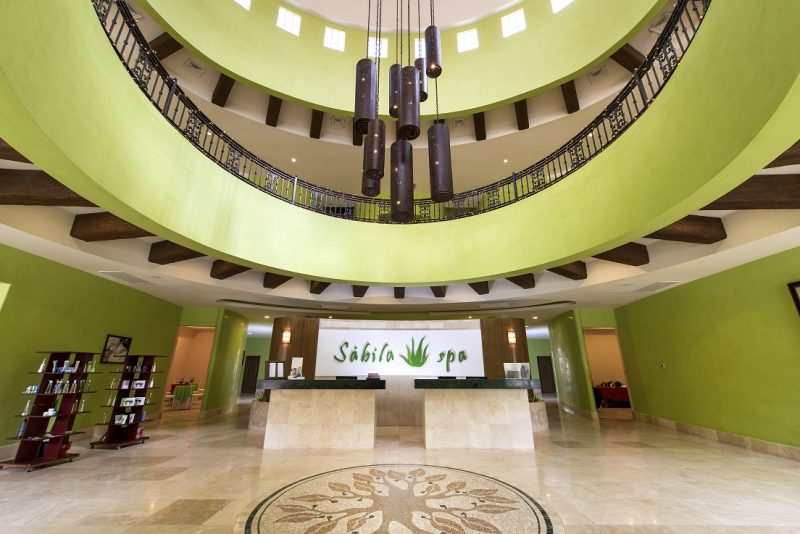 Villa del Palmar Loreto amenities and services:
European Plan (room only) or All-Inclusive Packages available.
5 Restaurants and Palmita Market (Convenience Store).
39,000 sq. ft. Sabila Spa and Wellness Center.
TPC Danzante Bay – a spectacular 18-hole golf course in Loreto designed for PGA Tour play.
5 outdoor swimming pools shaped like a sea turtle and a hot tub.
Shuttle Service to and from downtown Loreto.
Non motorized water activities (Kayaks, Paddle Boards, snorkel, and more).
Daytime beach and pool activities.
Nightly, live entertainment and theme nights.
Wedding services.
 Two tennis courts.
Pet Friendly Hotel in Loreto, Mexico.
View Villa del Palmar at the Islands of Loreto special offers and packages.
2.Hotel Santa Fe Loreto
If you're looking for Loreto hotels closer to downtown, Hotel Sante Fe Loreto is the sister resort of Villa del Palmar at the Islands of Loreto. This boutique hotel is an oasis in downtown where you can relax in the serenity of the courtyard by the pool or in the comfort of your own suite. The hospitality and services at Hotel Sante Fe make it stand out from other Loreto Mexico hotels, and at the hotel, you'll find everything you need to feel at home on vacation.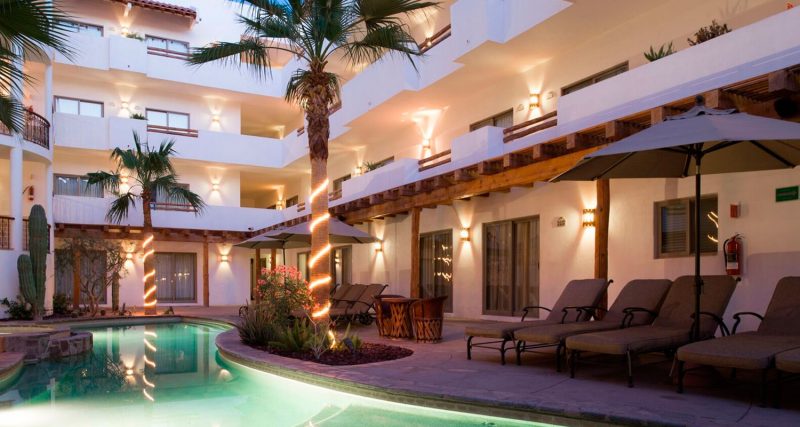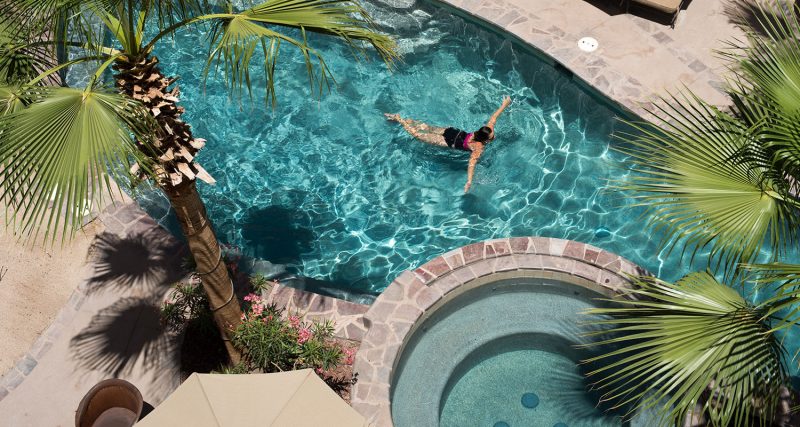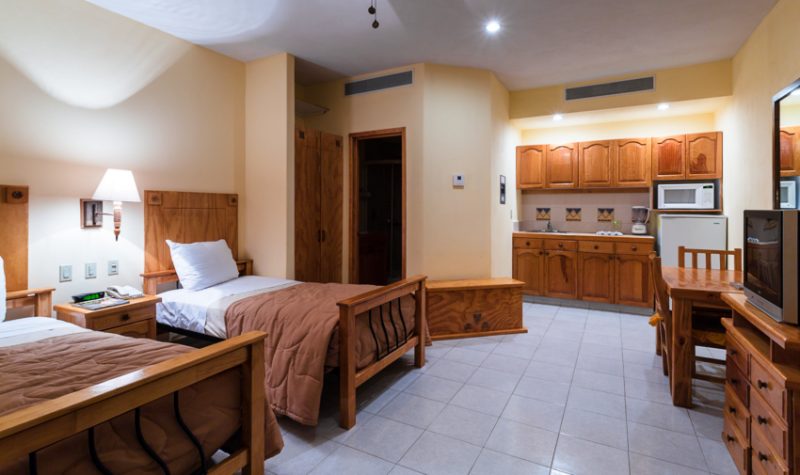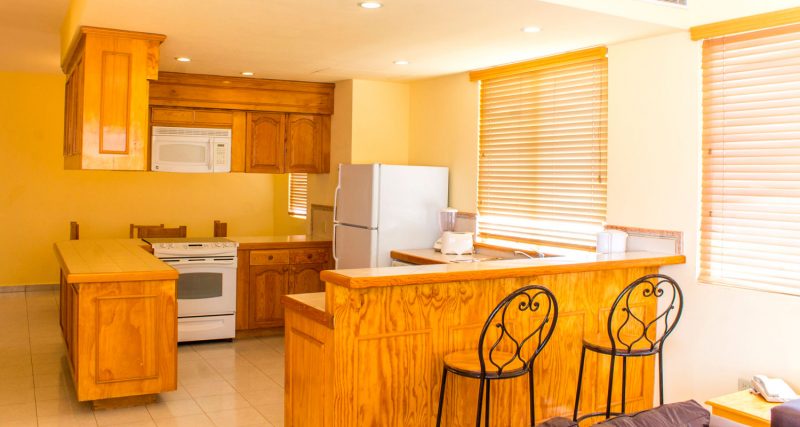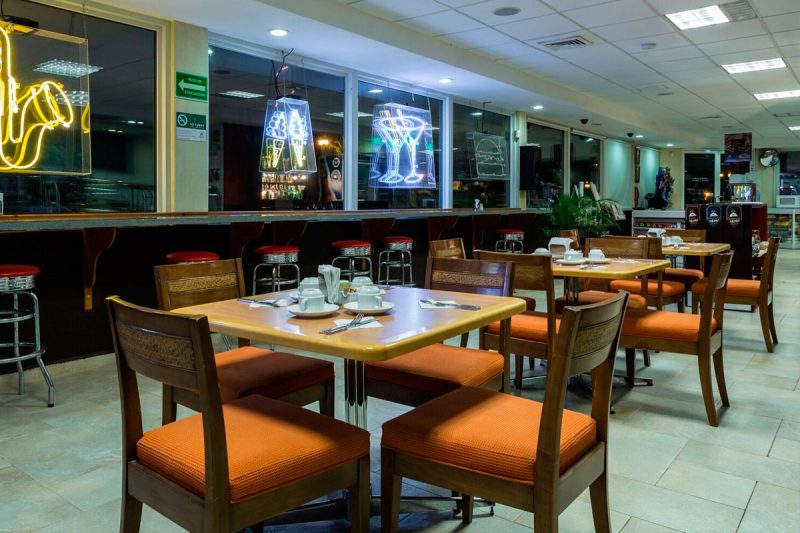 Hotel Santa Fe Loreto amenities and services:
Family-sized suites with equipped kitchenettes, air conditioning and flat-screen televisions.
Onsite Restaurant
Palmita Market (Convenience Store).
Courtyard with large pool and jacuzzi.
Pet Friendly.
Meeting Room.
Onsite Parking Lot.
View Hotel Santa Fe Loreto special offers and packages.
POPULAR ACTIVITIES IN LORETO, BAJA CALIFORNIA
While it's tempting to spend every day of your golf getaway at TPC Danzante Bay, there's more hobbies to enjoy and landscape to explore away from the fairways. Sportfishing, kayaking, paddleboarding, and snorkeling are some of the most popular activities that take you out to sea where the saltwater and spectacular views will rejuvenate your spirit. To see more of the mountains, hiking and riding ATVs lets you explore the landscape and see more of the desert. Adding other activities into your golf getaway makes your vacation one of a kind.
Check tours in Loreto: http://viajesdanzante.com/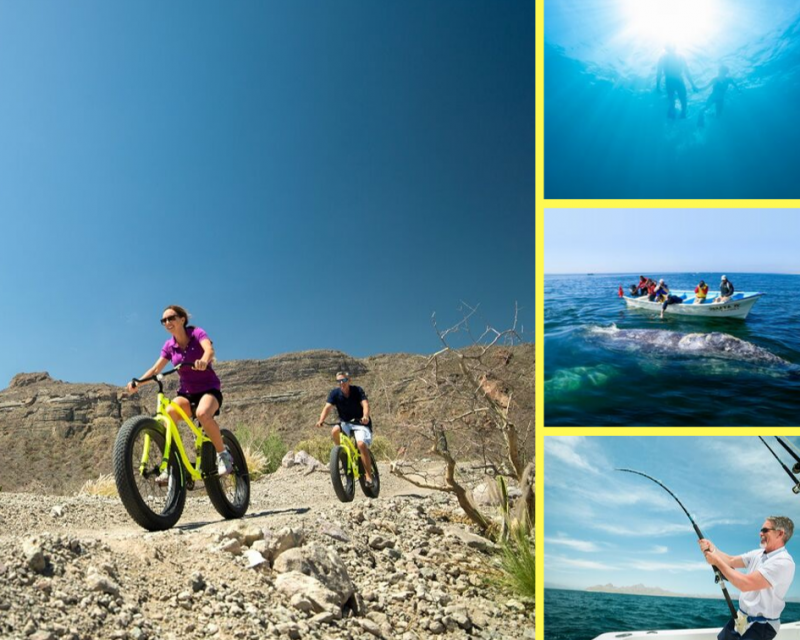 Booking a stay at one of these Loreto hotels is the perfect idea for a golf getaway. Whether you're traveling to Loreto Baja California Sur with buddies, your partner, or the whole family, the services and warm hospitality here will make you feel at home. Sleeping in the comfort of their suites will leave you feeling refreshed and ready to tee off again.
For more information about these hotels in Loreto Mexico:
Villa del Palmar at the Islands of Loreto
Visit https://villadelpalmarloreto.com
Toll Free:  1 800 790 4187
Hotel Santa Fe Loreto
Visit https://hotelsantafeloreto.com/
Toll Free: 1 877 217 2682