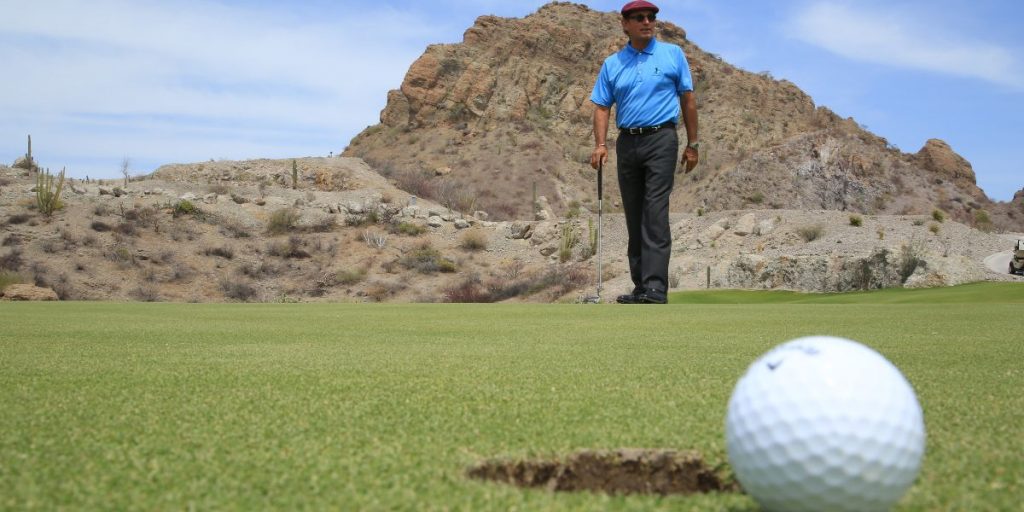 How to Stop Losing Your Golf Balls
It's estimated that the average golfer loses three to four balls per round. On a diverse, championship-caliber course like TPC Danzante Bay, with its mountains, desert, foothills, arroyos and dunes, that number is likely higher.
The most obvious way to minimize lost balls is to keep more drives in the fairway and more approach shots on or near the green. Easier said than done! Stray shots are an inevitable part of the game.
A Game of Chess
From a strategic point of view, it's important to think of golf as a sort of chess match between you and the course architect. Chess is a game of attack and defend. Like chess, golf is essentially a battle between the architect (the defender) and the golfer (the attacker). Imagine a well-defended golf hole as a giant chessboard where the architect has created a system of defenses. They can be as obvious as a waste bunker or as subtle as a gently contoured green. The designer not only places obstacles on a hole, he may also camouflage them.
A good rule for playing golf in Loreto with a thought to conserving your ammo is to start each hole fully aware that there may be, in addition to shifting breezes, hidden elements waiting to sabotage your game.
To succeed on a playing field that is never the same two days in a row demands a mindset that can quickly analyze a layout's features –and identify the challenge at hand. TPC Danzante Bay forces players to evaluate each shot in terms of nerve and skill. The more decisive your shot selection and shot execution, the greater your chance of mastering the course—and reducing the number of balls you lose.
The Purpose of Hazards
While hazards (bunkers, water, wasteland, rough, etc.) are the bane of every duffer's existence, they serve a purpose. According to the late great Robert Trent Jones, Rees' father, "Hazards make golf what it is, a game full of uncertainties, of risks and rewards and consequences, of peaks and valleys, of victories and defeats. They also add immensely to the beauty, to the work of art that is a golf course. Without hazards, golf would be little more than an extended game of croquet."
Desert courses in particular pose a special challenge. In topographic terms, TPC Danzante Bay is a hybrid, a desert course with mountain attributes. While the site is relatively flat along the coastline, holes nestled into canyons offer deceptive uphill and downhill transitions. Rees Jones utilized the majestic site to create contour, elevation and perception puzzles.

Six Ways to Stop Losing Golf Balls
While a theory of golf course design can be helpful, there are practical ways to reduce the number of lost balls during the round. In the end, there is something very satisfying about finishing the round with the ball you started with.
Here are a few ball-saving techniques recommended by GOLF Magazine.
1. Play the correct tees
Golf architects design their courses to present a challenge, but they also want them to be fair. Jones built six sets of tees at TPC Danzante Bay for maximum versatility. Whether you play the course from the Black tees at 7,237 yards or the Red tees at 4,916 yards, each set of markers is carefully positioned relative to the placement of hazards. Keep your ego in check. Play the set of tees that matches your ability level. You'll have more fun and lose fewer balls.
2. Take the trouble out of play
Trouble on the right and your miss with the driver is to the right? Keep the big stick in the bag. Opt for a smooth 3-wood or a hybrid. Make course management your 14th club. Be conscious on every shot of where the trouble is and play away from it, especially if you're a higher handicapper.
3. Be committed
Every swing you make should be purposeful. If you swing freely and aggressively, it's far more likely the ball will react the way you expect. A timid swing can bring more trouble into play, even if that's not your intention. Commit to every shot, and you'll lose far fewer balls.
4. Use a highly visible ball
Bright orange and neon yellow are two of the easiest colors for the human eye to see. You've got a better chance of finding your ball if it's the color of a radioactive tangerine or an iridescent safety vest. Anecdotal evidence suggests that there's something freeing about knocking around a colored ball vs. a white ball. Call it the Hacker's Paradox: The ball you take less seriously is the one you're less likely to lose.
5. Find a reference point
Follow the ball like a hawk until it disappears from view. Pick a feature in the landscape—a tall cactus, a cart path, a rocky arroyo—in the area where the ball is headed. It's crucial to have a landmark as a reference point because it's easy to lose perspective once you leave the tee. Resist the urge to avert your eyes if you hit a poor shot. Get a line and a good idea of where it ended up, and you'll find your ball more often than not.
6. Be a good scout
When you play golf with others, you sign an unwritten social contract. Proper etiquette requires that you maintain a good pace, sprinkle sand mix in the divots, repair pitch marks on the green, and keep an eye on your partners' shots. It's the polite thing to do. It will also speed up pace of play. Vigilant watching is infinitely preferable to aimless searching.