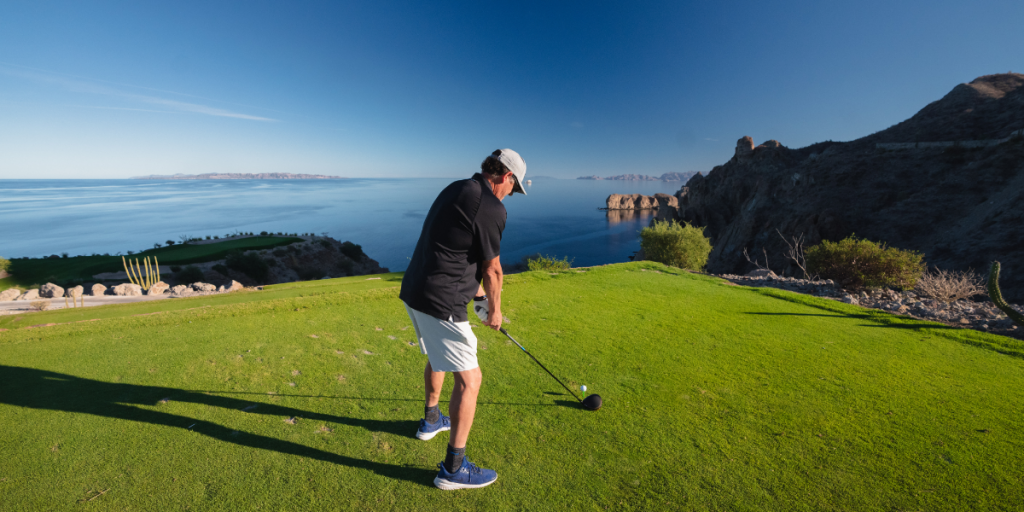 How to Master Fairway Bunker Shots, with Danny Garcia
TPC Danzante Bay is not a golf course over-embellished with man-made features. Designer Rees Jones wisely realized the parcel he was handed for the course at Villa del Palmar at the Islands of Loreto was endowed with significant landforms and great natural beauty. It did not need to be adorned with sandy hazards. Bunkering was kept to a minimum.
That said, strategically-placed bunkers guard a few of the landing zones. In addition, sandy waste areas flank several of the fairways. The first bit of advice, according to Danny Garcia, head pro at TPC Danzante Bay, is to avoid them! But if you do happen to find a fairway bunker or waste area with a wayward drive, there are methods for escaping these hazards to limit scorecard damage. 
Bunkers can be menacing for amateur golfers. They require a different technique than hitting from groomed fairway grass. And because bunkers require maintenance, your average driving range won't have practice facilities to allow you to experiment with what works and what doesn't.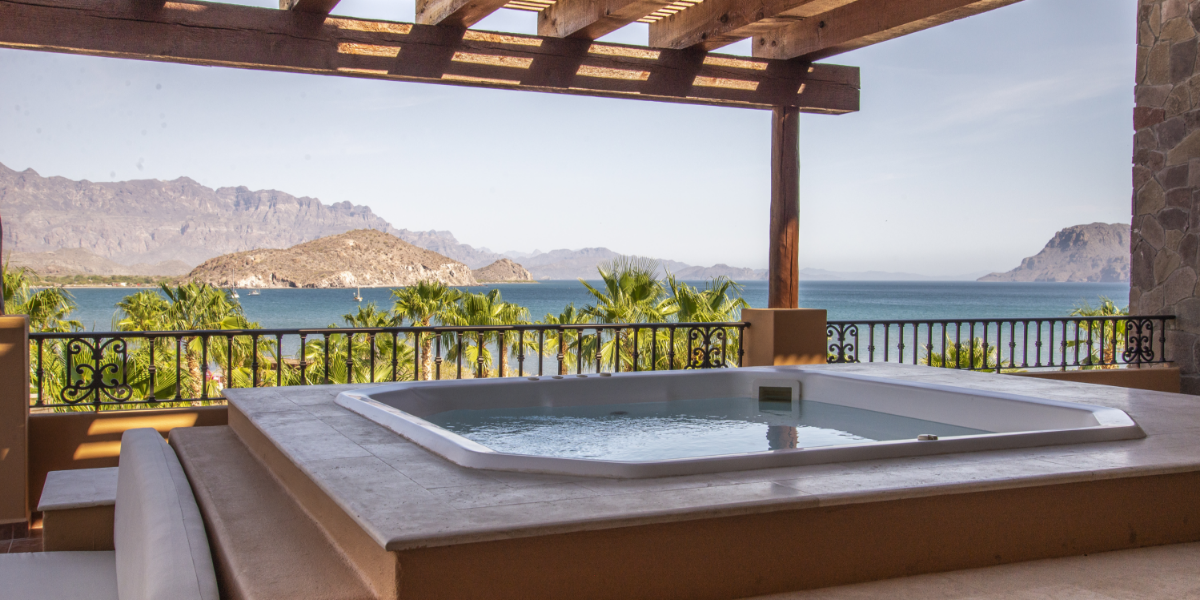 Escaping the Sand with Ease
Here are several useful tips for hitting the perfect fairway bunker shot, courtesy of Sr. Garcia.
Dial in club selection

. The depth of fairways bunkers will vary. This will affect club selection. If the bunker is shallow and without a lip, you can hit almost any club you want from the hazard. But if the bunker is deeper, choose a higher lofted club that you know will clear the lip. Once you're in a bunker, your duty is to get out of it.
A good way to check if your selected club will clear the lip is to take your club just outside the bunker and step on it with the face up. The shaft will stick out at the angle of the clubface and will give you an idea of how high the ball will come out when it's hit. If the shaft is pointing above the lip, you should be OK. If it looks like it might catch the lip, go with a higher-lofted club.
Ball, then sand.

Because sand has a finer consistency than grass, you need to focus on ball-first contact. You must hit the ball first and then take a little sand, just as a well-struck shot off grass requires ball-then-turf contact.

In this way you'll avoid catching the shot heavy and leaving it in the bunker. If you're in a waste area, be sure to take some practice swings (no penalty) to get a better feel for the sand.
Center ball position.

Ball position for a fairway bunker shot should be in the center of your stance. This position will help to ensure that you make solid ball-first contact at the bottom of your swing.
Key adjustments

. Grip down on the club to promote solid contact. Quiet the lower body—you want to maintain your stability in the sand. Swing smooth to guarantee the strike. Assuming you have a good lie and clearing the lip in front of you is not an issue, it's a good idea to "club up" and take one extra club into your target — i.e., an 8-iron instead of an 9-iron. The aforementioned adjustments can limit the distance of your chosen club, so taking one club more will allow you to cover your desired distance.
Narrow your stance

. Moving your feet closer together can lead to more consistent contact in a fairway bunker. Making this adjustment will help your motion be more rotary and less lateral, which will produce more consistent contact. Narrowing your stance will also help you stand a bit taller, making it less likely your club will dig too deep.
Not all lies are created equal.

The ball-then-sand approach applies mainly to good lies where your ball is sitting on top of the sand. If your ball is sitting down or is buried, take your medicine and chunk the ball out. Take plenty of sand to ensure you advance the ball. Get too greedy, and you risk hitting the lip and having the ball roll back to your feet.
Lean on lofted hybrids.

With a good lie and enough lip clearance, a hybrid club can be a great choice in a fairway bunker. With solid contact, a lofted 5-hybrid will launch high and provide clearance over the lip. It will also help you to increase your distance down the fairway and make your next shot easier.
8. Pivot to a balanced finish. On your through-swing, make your normal pivot and allow your trail heel to come up off the ground. Finishing the swing in balance is the key if you want to escape a fairway bunker or sandy area reliably. Get a stable base, make a smooth swing and focus on ball-first contact. Do this, and your fairway bunker shots will soar out of the sand with ease.