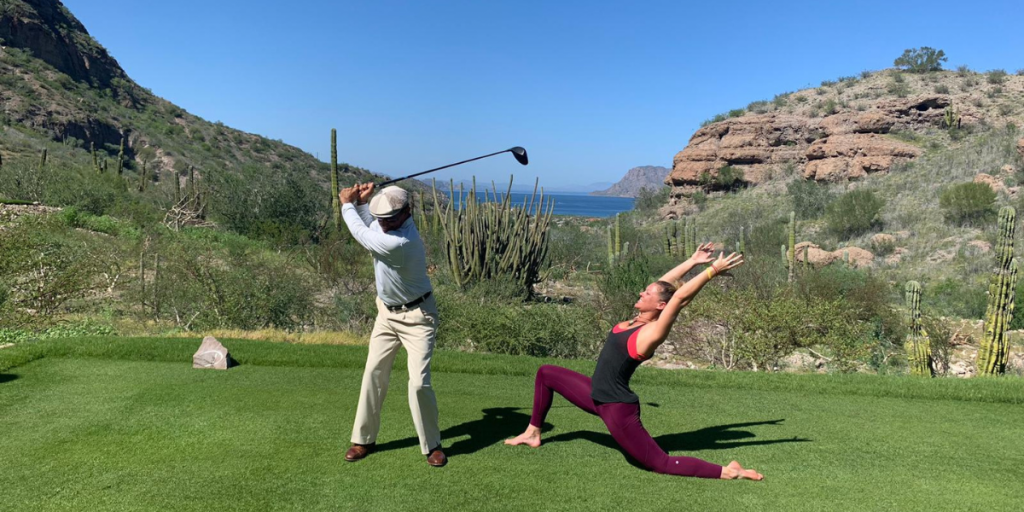 Golf Workout Routines to Help You Play Better
Turns out that golf, unlike checkers, is a sport. Which requires a fair amount of athleticism, especially on a challenging course like TPC Danzante Bay.
Golf is the game of a lifetime–but only if you stretch and strengthen your body to create the range of motion and stability required to make a proper swing. Golfers must deliver the clubhead to the ball to compress it. Unlike a tennis ball, a golf ball is hard. To make it fly, you need to deliver a swift blow with maximum clubhead speed at impact. Proper timing and sequencing are required to create power. To do that, you need to be in decent enough shape to make effective golf swings for 18 holes.
In the past, golf was portrayed as a casual pastime. Gary Player was an early proponent of physical exercise in the 1960s, but it wasn't until Tiger Woods started working out that his fellow competitors took notice. Nowadays, nearly every competitive player has a golf workout routine. Why? Because golf is ballistic. It involves sudden moments of exertion. It's also one-sided: Players swing 75 to 100 times from one side of the body, which can often create muscle imbalances and overuse injuries.
The Science Behind Golf Fitness
According to Golf Digest, "The weakest part of most golfers' bodies is the part they need most: the core. Without strong, pliable muscles in your stomach, hips, butt and lower back, you can't make a golf swing that is both powerful and technically sound."
"Exercises that improve hip mobility and rotation through your mid-back will give you the best chance to make a more efficient swing with proper sequencing," says performance coach Tyler Campbell, who trains clients at the Golf Performance Center in Ridgefield, Conn.
Sit-ups were the old standby for strengthening abdominal muscles, but there are dozens of exercises (like planks) that are better-suited for this purpose. It's worth seeking out an experienced fitness instructor with a knowledge of golf-specific physiology. He or she can recommend a wide range of stretching and strengthening exercises using elastic bands, dumbbells, ropes, medicine balls, kettlebells and other devices.
Want a sure-fire way to prevent injuries? Swing a weighted club. Doing so 25 or more times each day will strengthen and stretch the golf muscles. Legendary greats such as Gene Sarazen and Sam Snead endorsed this method. Swinging the heaviest club in your bag, your lob wedge or sand iron, will achieve the desired result.
The Orange Whip is a weighted club worth acquiring. It combines a counterweighting system and a flexible shaft that work together to promote a natural golf swing motion. Slowly swinging the Orange Whip on a regular basis will improve the rhythm and balance of your golf swing—and also provide a core muscle workout.
Yoga: A Cure-All for Golfers
Many golfers have discovered yoga, much to their benefit. The centuries-old practice of yoga enables practitioners to control their mind and senses by assuming body positions (asanas) coupled with breathing and meditation. Yoga stretches and strengthens many of the muscles used in golf. Practicing yoga on a regular basis can invigorate your game–and improve balance, focus and control.
Here are just a few of the benefits of yoga for golfers:
Increased flexibility. As you practice the poses, tight muscles will begin to loosen up. Improved flexibility and limberness allows for a fuller range of motion–and a freer, more powerful swing.
Improved strength. It's counterintuitive, but yoga, while gentle, will boost your strength nearly as much as a weight-lifting regimen. It's very beneficial for core strength, a key factor in maintaining a swing that repeats.
Better mobility. Practicing yoga promotes a more fluid range of motion in your joints. You'll be able to rotate your torso faster and make a better lateral shift in your swing, resulting in more solid, accurate shots.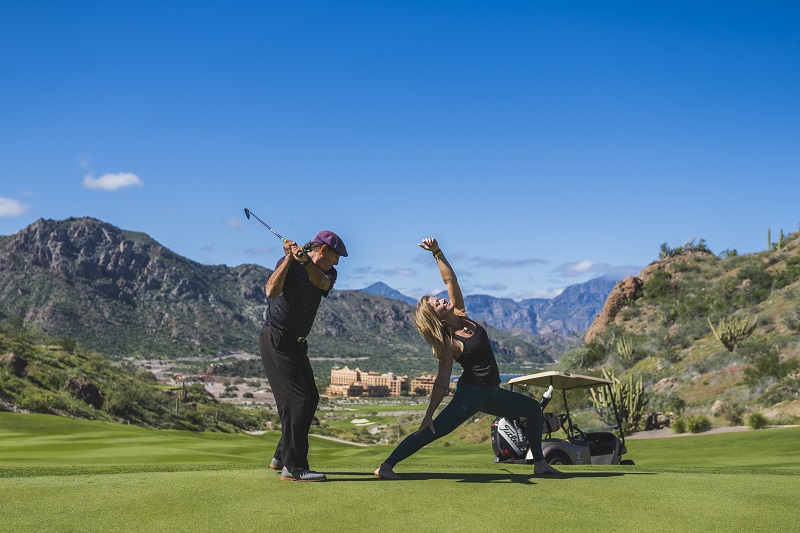 Increased stability. Yoga includes positions that improve stability and posture. If you've ever had to hit a ball from an awkward position (a common occurrence at TPC Danzante Bay), you'll be sufficiently grounded to pull off the shot.
More endurance. Yoga requires that you sustain certain positions for periods of time, often a minute or more. This will build your endurance. Greater endurance will enable you to perform better over a longer period of time on the course.
Better balance. Stability and balance go hand in hand. If you have problems keeping your balance, the practice of yoga will improve your center of gravity, an essential component of a sound golf swing.
Improved focus. Breathing exercises associated with yoga can develop your concentration and focus. If your mind isn't calm and centered, you'll be challenged to play the game at peak performance.