Challenging But Player Friendly: TPC Danzante Bay Doesn't Punish
We couldn't be more excited that the Tournament Players Club (TPC) Network has selected our course to host the annual TPC Ladies National Interclub. Women golfers representing clubs throughout the TPC network will descend on Loreto Oct. 17-21 to tackle TPC Danzante Bay, the only TPC course in Mexico.
Our course is the perfect venue for this event. Rees Jones designed it to be very player-friendly, with multiple sets of tees, wide fairways, and greens that must be carefully judged but are neither unfair nor punishing. Most of the holes are open in front of the greens—allowing approach shots to run on safely—while the holes along the cliff feature strategically placed collection areas that should keep errant shots from drowning in the sea below. Jones and his team actually designed the course from the forward tees and then worked back to the tips.
According to Sue Powers, co-owner of Nancy Lopez Golf Adventures, there are a number of clues to recognizing a truly women-friendly golf course.
"Forward-thinking golf course architects reimagine course-design flaws that punish the slow swing players, eliminating or reducing obstacles that shorter-hitting players cannot hit over from the forward tees. They also eliminate thick rough so it's easier to hit out of, and use more short grass around the greens, allowing players to use their putters more," says Powers, an LPGA Top 50 Best Teacher and former National Teacher of the Year.
She adds, "female-friendly courses understand that the more events they have for women, the more women will come and play."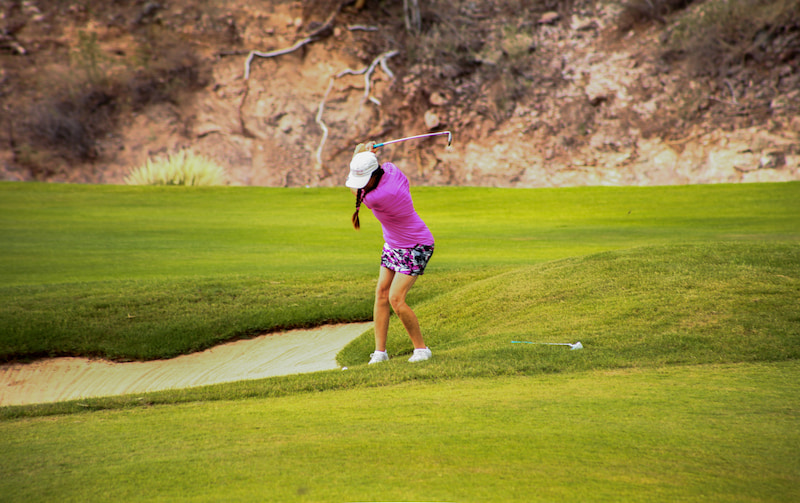 Besides being very playable, TPC Danzante Bay is one of the world's most visually stunning layouts. And not without its challenges.
Most of the attention rightfully goes to the spectacular 17th hole, which plays sharply downhill over cliffs toward a sliver of a green surrounded by sand with the Sea of Cortez as the backdrop., But the 11th is likely the toughest hole on the course: The tee shot must carry the edge of a lake to reach the wide landing area of this long par-4. Meanwhile, 18 is both the course's longest, and most sharply downhill, par-4.
The real flavor of the holes "comes from their diversity," wrote Jon Rizzi in Colorado Avid Golfer. "Although built near the sea, the course traverses an unusual combination of mountains, valleys, arroyos, dunes, canyons and foothills, with 250 feet of elevation change along the way. To account for the wind and saltwater, SeaDwarf Paspalum carpets wide, forgiving fairways and large, mildly contoured greens with receptive entrances."
This won't be our first ladies' tournament. TPC Danzante Bay has welcomed the Latina Golfers Association every year since 2017.
The developers picked Rees Jones to develop the course because they "wanted a real architect — someone who could create a course that's both challenging but friendly."