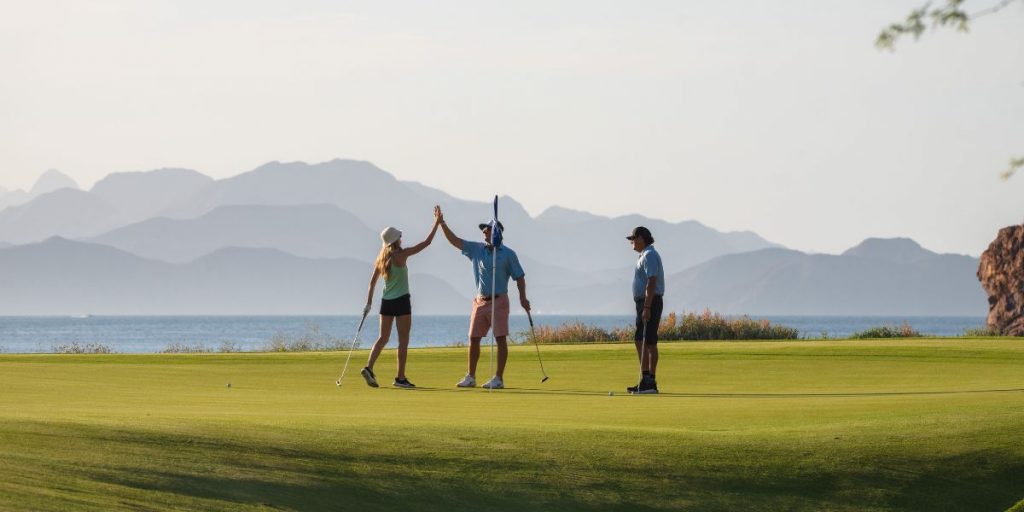 Cabo vs. Loreto: Which is Better for a Golf Vacation?
At first glance, this David vs. Goliath match-up doesn't appear to be a fair fight. After all, Los Cabos, situated at the tip of the Baja Peninsula, is home to 18 golf courses. Three of them appear on Golf Digest's current list of the "World's 100 Greatest Golf Courses." Moreover, on the publication's roster of the best courses in Mexico, Los Cabos boasts 10 courses on the 15-course list, including the top six venues.
Loreto, a Pueblo Magico on the East Cape, is the entryway to Villa Del Palmar Beach Resort & Spa, home of TPC Danzante Bay, the region's only top-notch golf course. Built by Rees Jones (his only design in Mexico), this versatile layout rambles from desert foothills and a steep-walled canyon to rolling sand dunes. It is a one-off, savored by connoisseurs for its seclusion, its beauty and the firm but fair challenge it presents.
The comparison between the two destinations is one of apples vs. a single orange. Cabo has evolved into a bustling destination. The 20-mile corridor stretching between San Jose del Cabo, a colonial city, and Cabo San Lucas, a deep-sea fishing mecca and party capital, is chockablock with development. It offers every amenity imaginable, but it can be a hustle based on the volume of visitors it receives (over 3 million per year and counting).
Loreto, on the other hand, is a sleepy, relatively undiscovered hideaway.
In a Cabo vs. Loreto face-off, here's how each destination fares in a variety of categories.
Golf
Jack Nicklaus, golf's greatest champion, put Los Cabos on the international golf map with his seminal design at Palmilla Golf Club in 1992. He has since returned to build five additional layouts, single-handedly catapulting Los Cabos into the golf vacation stratosphere. Designs by Tom Fazio, Robert Trent Jones, Jr. (Rees' older brother), Tom Weiskopf, Greg Norman and Tiger Woods can also be found in Cabo.
On the other hand, TPC Danzante Bay in Loreto is the ONLY Tournament Players Club (a chain of exclusive courses operated by the PGA Tour) in Mexico. It was conceived by Owen Perry, a visionary developer who saw potential in a remote outpost with natural splendor. "I was stunned by the amazing beauty of both the mountains and water that surround it" during course construction, he said. The resort is a one-off, which may explain its popularity. Loreto is like Cabo was 30 years ago, when it had only one 18-hole course.
Setting
Situated at the place where the Sea of Cortes meets the Pacific Ocean, Los Cabos possesses a mountain-desert-ocean environment where the game's leading designers have crafted some of the world's finest courses. Most of Cabo's courses are routed in cactus-studded foothills and offer panoramic views of the sea.
Like Los Cabos, TPC Danzante Bay in Loreto is situated in a subtropical desert. The topography is a little different, but the basic setting is the same, with the added bonus that the Sierra de la Giganta are more visually dramatic and closer to the action than Cabo's mountains.
Single Best Hole
LINKS Magazine recently published a feature entitled, "21 Best Holes of the 21st Century." Among the Par Threes listed is the 6th hole at Quivira Golf Club in Los Cabos. Carved into the base of a dune, this par 3 is perched on cliffs high above the beach and sea. It is dramatic, but it is eclipsed by the par-3 17th hole at TPC Danzante Bay (also on the list), which occupies a narrow promontory 250 feet above the Sea of Cortes. The green clings to the tip of a rocky peninsula and commands a breathtaking view of the glittering sea and distant islands. After revising the original routing, Rees Jones and his design team built one of the most spectacular short holes in the world.
Off-Course Attractions
Los Cabos is a recreational juggernaut. In addition to its 18 golf courses, landlubbers can enjoy guided desert hikes, outback camel safaris, beach horseback riding, desert jeep tours, ATV excursions, mountain biking, rock climbing and bird watching. As for water sports and eco-adventures, there's fishing, snorkeling, scuba diving, surfing, windsurfing, parasailing, sea kayaking, paddle boarding, sailing and swimming. Plus whale watching from mid-December through March.
Loreto and its environs offer many of these activities, and water sports in the crystal-clear waters of the Bay of Loreto (a UNESCO World Heritage Site) are far superior, but Cabo simply offers more.
Access
Several major airlines schedule nonstop and connecting flights to Los Cabos from dozens of major gateways in the U.S. and Canada. Among resort destinations, Cabo's international airport is the second busiest in Mexico after Cancun. Loreto, on the other hand, is a small seaside town. Air access is limited to flights from Tijuana, La Paz, Los Angeles, San Francisco, Phoenix, Dallas and Calgary (seasonal).

Weather
Straddling the Tropic of Cancer, Los Cabos and Loreto each enjoys a mild, Mediterranean-style climate, with 340 days of sunshine plus cooling sea breezes. Both offer ideal golf weather year-round, especially from November through April.
Here's the final verdict on Cabo vs. Loreto:
For golfers craving variety, Los Cabos is the top choice. For players who want to familiarize themselves with a well-groomed, world-class layout that takes a few rounds to figure out (and fully appreciate), TPC Danzante Bay, the premier amenity at Villa Del Palmar, is a great choice. The full-service, all-inclusive, family-friendly resort is also an ideal place to kick back and relax after the round.