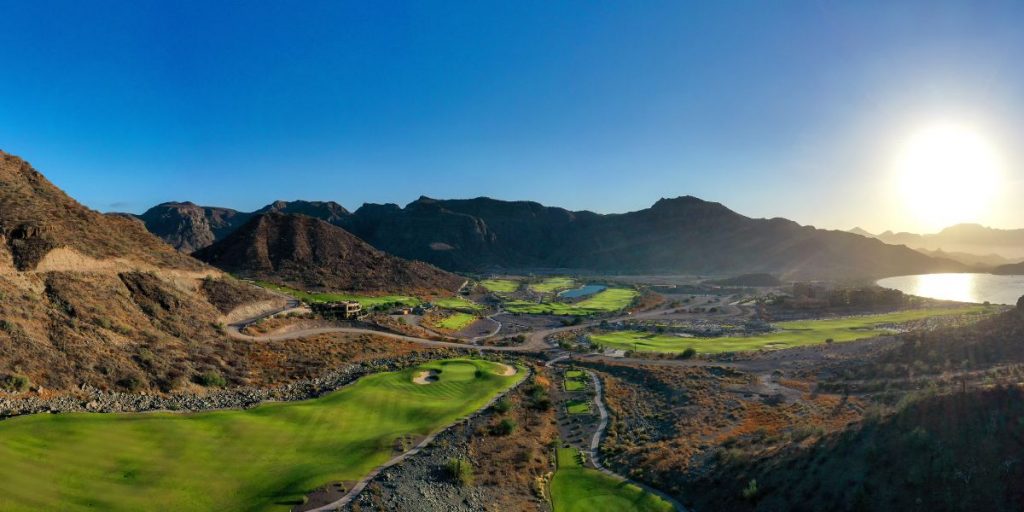 TPC Danzante Bay (Loreto): All You Need to Know Before You Go
Once you decide to visit Loreto, a 'Pueblo Magico' on the East Cape of the Baja Peninsula, the rest is fairly simple. Fifteen minutes from the local airport is Villa del Palmar at The Islands of Loreto, the region's leading resort. Its prime amenities amount to a surfeit of riches. For starters, the property commands a world-class setting on a pristine bay flanked by dramatic peaks in the Sierra de la Giganta. Carved into the foothills of the mountains and woven into the dunes along the shore is TPC Danzante Bay, a stunning Rees Jones-designed course renowned for its scenic beauty and exceptional playability. Add family-friendly activities, superb dining options, personalized service and the award-winning Sabila Spa, and the value proposition increases significantly.
How to get to Loreto?
Loreto is a four-hour drive from La Paz, the state's capital, but most vacationers arrive by air. Carriers offer regularly scheduled flights to Loreto from Tijuana (Volaris), Los Angeles and San Francisco (Alaska Airlines), Phoenix and Dallas (American Airlines), and Calgary (WestJet).
Once flights are decided upon, check the resort's website for deals and packages. For example, the resort's 'Hotel + Flight' promotion invites travelers to book a vacation package directly with Villa del Palmar for additional savings. Looking for the best price? It's guaranteed. According to Villa del Palmar's policy, "If you find a better rate online, we will match it."
Here are a few pointers before you head off to an unrivaled tropical paradise.
1. Prepare to relax
Villa del Palmar is a remote hideaway far removed from the hectic pace and hubbub of the modern world. The resort has high-speed internet access, but the worn-out and the weary are advised to set aside their devices–or at least limit their use. Unplug from the everyday. Take a break from your online social network. Deeply inhale the sea air. Hike the trails that lead into the mountains. Go kayaking or paddle boarding in the bay. Reconnect with nature. It's the best way to refresh yourself and fully relax. Same goes for a round of golf at TPC Danzante Bay. It's a brilliant design, a course that takes players through multiple ecosystems, from deep canyons and desert foothills to rolling sand dunes. Savor it all. Don't bother to keep score one day. With the pressure off, you might be surprised by how well you do without a pencil in hand to record the score after every hole.

2. Sun protection
Respect the subtropical sun in Loreto by protecting yourself. Apply SPF-30 broad spectrum sunscreen lotion (or stronger) every hour or so that you're in the sun. Wear polarized sunglasses to protect your eyes. Wear a broad-brimmed hat to shield your face and neck from the sun. Limit your sunbathing to before 10:00 a.m. and after 4:00 p.m., when sunrays are less strong. In short, respect El Sol. Nothing ruins a vacation faster than a sunburn.

3. Golf supplies
Bring all the gear you'll need. That includes golf balls, golf shoes and a golf glove.  TPC Danzante Bay offers PXG clubs, one of golf's premier golf equipment brands. PXG clubs are endorsed by a number of top players on the PGA Tour, Champions Tour and LPGA Tour. In addition to a very gratifying sound made at impact, PXG clubs have exceptional "feel." They're also very forgiving to off-center hits, the kind most amateurs produce.

4. Clothing
Leave the three-piece suit and floor-length gowns at home. Loreto and its environs are casual. Danzante Bay and its islands are an ideal playground for all water sports, from swimming and snorkeling to scuba diving. Bring flip-flops, not wing-tips. And an extra bathing suit if you're a water sprite. Casually elegant resort wear is suggested for dinner. For golfers, shorts and breathable golf shirts are the way to go.

5. Language
Familiarize yourself with a few basic Spanish words and phrases prior to arrival. Even the feeblest attempt at speaking Spanish will be appreciated by the golf and resort staff–and by anyone else you encounter in and around Loreto.
Plan your next Loreto vacation:
VIEW SPECIAL OFFERS & PACKAGES.
TOURS IN LORETO (BROCHURE AND REQUEST RESERVATION).
LEARN ABOUT THE DINING OPTIONS.
VIEW VILLA DEL PALMAR RESORT FACT SHEET.
CALL TOLL-FREE: 1 800 790 4187 | Resort Phone: +52 (613) 134 1000.