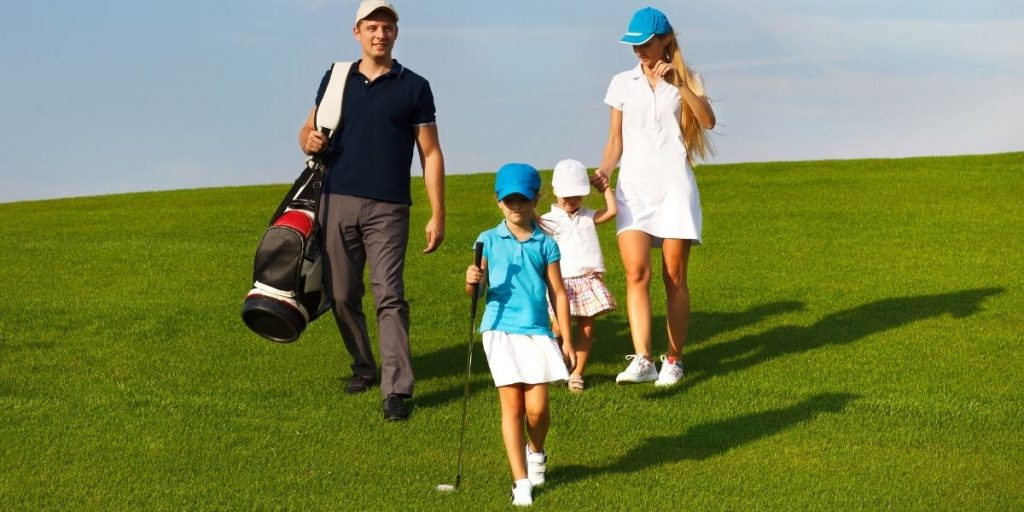 Getting Your Kids into Golf: What You Need to Know to Ensure they have FUN
It's a universally acknowledged truth (or at least a bromide) that one of the benefits of having children is cementing the members of your foursome for life.
Ah, but how to get the kiddies hooked on golf without turning them off? What if your little humans have zero interest in the game? What, based on their observations, if they've come to the conclusion that golf is very serious, lots of work and not much fun?
Consider as well their competing interests. School activities, other sports, new friends and screen time are in constant competition for every child's attention.
A few years ago, GOLF Magazine tapped PGA and LPGA certified teaching professional Megan Padua Buzza, who runs the elite junior golf program at The Maidstone Club in East Hampton, N.Y. Megan has had great success in connecting with kids of all ages. Her advice is indispensable. Whether you're the parent or grandparent, here are her recommendations for fostering a love of golf in your little one.
1.  Forget what you've heard, start them now!
"I am all for getting kids to start at any age. As soon as they show interest. But as early as age two, you can have them swing a plastic club. It's never too young. I hear a lot of parents say they don't want to start their kids until they turn a certain age, but that time has come and gone. It's more about doing different things at different ages when it comes to instruction."
2. Use age-appropriate teaching methods
"When kids are first starting out, you want them to feel like they belong playing golf, that it's a sport they can do, and enjoy. Then, focus on skill development, but not necessarily technique. As they get a bit older, you can start doing some technique."
3. Remember: You're in it for the long term
"It doesn't matter how good your junior is, the most important thing is that they want to play for a long time. They may be the best 6-year-old, but if they don't want to play when they're 13, that's not a good thing. I like to get kids hooked on the game so they'll want to play forever."

4. Recruit some friends
"It's helpful, especially for younger girls, to have someone else to play with. That's important."
5.  Pump up the fun factor
"We do a lot of hitting water balloons. If a kid explodes a water balloon, it makes them laugh, because they're soaking wet at the end, but it also shows them that they can do that. At any skill level, you can break a water balloon. It doesn't matter if it goes up in the air, you just want to make a splash. So it also helps them with acceleration, and just making a golf swing, because you have to swing through it, as opposed to just to it. I also like to put baby powder on top of the golf balls, so it's like an exploding golf ball."
6. Offer a mix of group and individual lessons
"Some kids love private sessions, and having someone you can relate to is really important. There's no exact time or age to transition your kids from group lessons to private sessions, but people should really expose their kids to a little of both."

7. Try not obsess on golf
"Letting kids do a bit of everything, playing other sports, developing values in all different areas and not focusing solely on golf helps kids become better athletes, which pays off in the long run."
8. Play games. Lots of games!
"Games are really big for junior golf. The emphasis on games has grown more and more. There's a modern way of teaching juniors now, which focuses on athletic development, games, and keeping it fun. It's different than just having kids hit balls on the range. The U.S. Kids golf program, Operation 36 and the TPI junior program are great resources."
9. Get them equipment that fits
"It's really important that kids have the right clubs. Get them clubs that fit them, because learning with the wrong equipment can be such a turnoff. If the clubs are ill-fitting, it can make it so hard."

10. Don't worry about results
"Put the emphasis on being there, the experience, and the fact that golf is fun. Adults worry way too much about how the kid is hitting the ball and whether their child has any potential. Golf is a 20-year game, at least. Does it matter if your child has any potential? There are plenty of adults who aren't very good at golf. And there are so many benefits to playing golf! If you're wondering whether it's worth your time, of course it will be. It's the game of a lifetime."
A few additional points. At the outset, let youngsters explore the game on their own. A picture-perfect swing isn't the goal when they're young—freedom and mobility are. Learning the correct grip and stance may be fundamental, but to an inquisitive young mind, the correct grip and stance can be drudgery. Keep golf lingo to a minimum. Be more like a cheerleader, less like a coach. At all costs, resist the temptation to offer a correction after every poor shot. Kids thrive when they associate golf with FUN. If that means letting them drive the cart (assuming they can do so safely) or sinking lots of 3-inch putts or stopping for a soft drink, reward their interest in the game by letting them call the shots.
The rule of thumb, which can be hard for adults to swallow, is simple: You are there to do what they want to do, not what you want them to do.